Ever since the creation of kettlebells, people have been using to get a serious workout and build muscle. If you are a highly advanced kettlebell user, you have probably considered getting some heavy kettlebells to make your workout even more extreme.
While kettlebells are very common in gyms, they don't always have the heaviest kettlebells available. However, there are a variety of places you can turn to to pick up some great heavy kettlebells. 
Get in shape and improve your health by joining this full body workout program.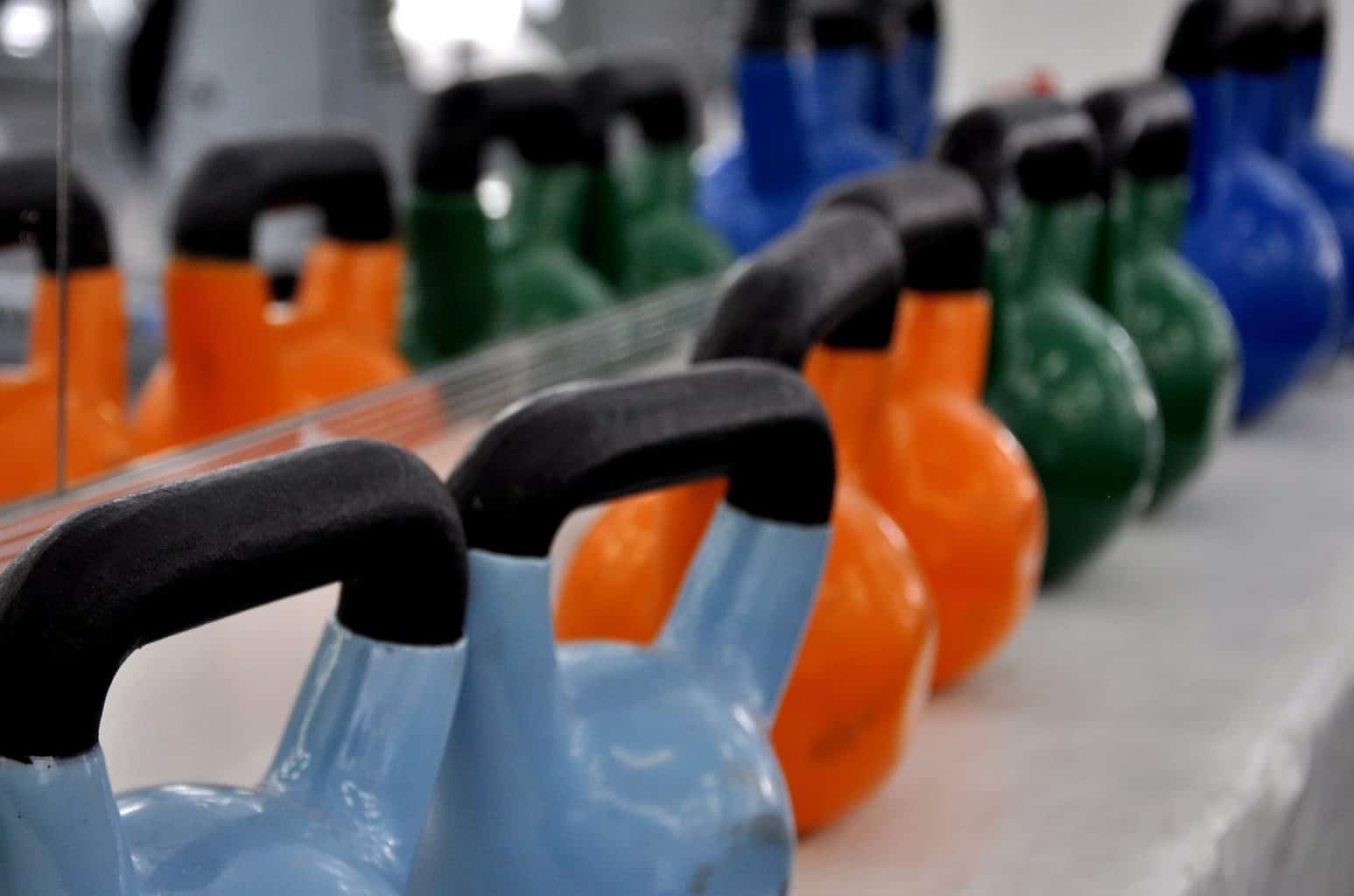 The Best Heavy Kettlebells on the Market
For the purposes of this conversation, we're going to consider any kettlebell that weighs more than 50 lbs. Here are our favorite heavy kettlebell brands, the reasons why, and where you can pick up any of these for your workouts.
​Titan Fitness
Titan Fitness specializes in no nonsense kettlebells. Their kettlebells are single piece, gravity cast to eliminate any weak spots or welding. They have an extra wide handle for easy gripping and have a natural finish so you don't have to worry about wearing some weight lifting gloves since it won't be​ too rough on your hands.
We love Titan's adjustable kettlebells and rate them really high compared to other brands.
Titan Fitness makes kettlebells as small as 5lbs and their biggest is 100lbs. The 100lb bell is ideal for working those major muscles with explosive movements. This behemoth can be used for all the workouts you need to gain some serious strength.
​Dragon Door
Dragon Door was one of the original kettlebell manufacturers in the US so they have been in the game since the beginning. They not only sell kettlebells but also produce lots of information about kettlebells and kettlebell training on their blog.
Dragon Door produces a kettlebell called The Beast, and it is designed for the most brutal of training sessions.
The Beast weighs 106lbs and this monster kettlebell is huge. It will provide for high intensity workouts that will test the limits of your strength. It is an authentic Russian kettlebell designed with a rust resistant coat.
Unfortunately, The Beast sells out frequently on the Dragon Door website so you might find it getting backordered. If you want to get your crazy workouts started right away, make sure it is in stock before you order.
​Kettlebell Kings
The Kettlebell Kings have a wide array of kettlebells for sale. They make everything from traditional cast iron to adjustable kettlebells. They also happen to have extremely heavy kettlebells. The heaviest they make is their 203lb powder coat kettlebell.
Of course a kettlebell that heavy must be special ordered, but the heaviest they have readily available is a 123lb powder coat kettlebell. These will be perfect for those who want to test their maximum strength and develop a killer grip.
​Rogue Fitness
Rogue Fitness is another household name that makes kettlebells for the intense athlete. They pride themselves on their use of premium materials and void free surfaces for high durability in their kettlebells.
All their heaviest kettlebells come in a matte black powder coat finish. This is one of the things we love about this brand, and we have a review on their top end adjustable kettlebell. 
They have seventeen weight increments to choose from ranging from 9lbs-203lbs. Their very heaviest kettlebells don't even have to be special ordered! You can nab one from their website right now if you want to.
​Primal Bells by Onnit
You have probably come across Primal Bells in your search. Their claim to fame is that each weight looks like a different primate. These kettlebells come in sizes that range from 18lbs all the way up to 72lbs.
Just recently, they came out with the Bigfoot, a 90lb kettlebell that is truly massive.
All primal kettlebells are made of chip resistant iron and enlarged handles for perfect grip. The Bigfoot is made for the serious kettlebell athlete ready to challenge themselves to the extreme!
​The Reasons To Work Out with Heavy Kettlebells
Heavy kettlebells have been around since the creation of the kettlebell. They were made famous in circuses because they were used to exhibit the strength of the "strongmen" in the performances.
Today they are used by everyday kettlebell users who want to test their whole body strength. These monstrous kettlebells will push you to the limit and help you gain muscle mass.
If you are looking to increase your lifting power and grip strength, heavy kettlebells are going to be the solution you are looking for. You'll want to use this type of workout to add bulk to some of your bigger muscle groups like your chest and the shape of shoulders. You can learn various kettlebell workouts even at home or on your smartphone.
Heavy Kettlebell Workout Tips
When you're first starting with ​your heavy kettlebell workouts, your ultimate goal is to not drop them. This means that you will want to do some simple exercises that involve practicing holding on.
Some exercises of this style include the farmers carry, the rack hold, the suitcase carry, and even a goblet squat if you're ready to really challenge yourself.
When you're working to move up to 80lbs or more, you want to progressively increase your working weight in increments of 5lbs, if possible. You can start by trying to increase your weight by 5lbs at the beginning of every week.
Another way to increase your working weight is to gradually progress to more difficult exercises. For example, once you feel you have mastered the farmers carry, maybe work your way up to the goblet squat, and then the swing, and then a clean. Eventually you may even be able to do a full snatch.
​Heavy Kettlebell Workouts to Begin With
​Farmers Carry
Rack Hold​​​​​
​Suitcase Carry
Goblet Squat​​​​​​​​​​
​Swing
​Clean
You can also work your way up by doing additional repetitions of an exercises. If you can work up to doing a set of 20 swings or 10 snatches easily then you're probably ready to move up a few pounds in weight. This is a great way to work up if you don't have weights available in 5lb increments.
When you are using kettlebells that weigh over 100lbs, you're focusing on doing low numbers of repetitions to gain strength. Doing 20 swings or more should be reserved for when you're still working your way up the training ladder.
Most people think of kettlebells as high intensity/high rep training for weight loss, which is a great use for them. However, using them for high weight/low rep training is going to help you gain serious muscle and power.
​Conclusion
If you're looking for the ultimate way to gain strength aside from taking a combination of supplements, using heavy kettlebells is the training method for you. Heavy is a relative term, so don't feel pressured to use kettlebells over 100lbs. However, if you are trying to go that heavy it is important to remember to get there gradually.
Results will take some time from this kettlebell weight, so be patient and don't push yourself too hard. You can seriously hurt yourself using kettlebells this heavy if you aren't careful.
There are many companies that make kettlebells to suit your need for the biggest and best. You can even order kettlebells as big as 203lbs! These colossal kettlebells are going to improve your grip strength, and tone your core and muscles.