Though kettlebells have grown in popularity in recent years, there is still so much room for people to learn, especially beginners. Trying to answer how heavy should my first kettlebell be for a beginner can feel overwhelming, mainly because it's likely they have never used one.
If you are just starting out, don't worry! We'll help you determine the weight of your first kettlebell so you can get your training started as soon as possible. 
How Heavy Should My First Kettlebell Be?
For beginners, this is probably the biggest hurdle you are likely to face when purchasing your first kettlebell. We should start by pointing out that the recommended starting weight for kettlebells is different for men and women. 
Men
Most men often tend to start out with kettlebell weights that are heavy for them. However, starting with a heavier kettlebell can be counter-productive to your fitness goal. The ideal kettlebell starting weight for men is 16 kg or 35-pound kettlebell. 
Once you feel confident and hardly break a sweat, you can switch to a 20 kg or 44-pound kettlebell. Athletic men who are new to the use of kettlebells can start with a weight of 24 kg or 53 pounds and gradually increase the weight, as you grow stronger.
Women
On the other hand, most women tend to start out with a light kettlebell. Just like starting too heavy is a problem, you shouldn't start with a kettlebell that's not heavy enough. You can't really activate your muscles with weights that are too light.
Therefore, the ideal starting kettlebell weight for women new to weight lifting and training is 8 kg or 18-pounds. For women with experience in weight-training, the recommended weight is 12 kg or 26-pounds. For athletic women who are new to the use of kettlebells, the ideal starting kettlebell weight should be 16 kg or 35-pounds.
How to Choose the Right Type of Kettlebell
Once you have determined the right weight for your first kettlebell, the next step is choosing the right type of kettlebell. The type of kettlebell you choose can either limit or improve your kettlebell workout experience. 
Kettlebells come in two basic types: competition kettlebells and cast Iron kettlebells.
Competition Kettlebells
Competition kettlebells, also known as sport kettlebells, are better for high rep exercises with specific lifts. They also have a square-like design with a much smaller handle. The size of the handle only allows using one hand. The advantage of their smaller handle is that the dumbbell can't slip when using it as your hand fits perfectly in the handle.
Another common feature with competition kettlebells is that the shape and size of competition kettlebells remain the same regardless of the weight. This means that a person using an 18-pound/ 8 kg kettlebell and another using a 70 pound/32 kg kettlebell, will have a similar shape and size.
The construction is also different, competition kettlebells mostly consist of steel, which makes them more durable than their cast iron counterpart.
Cast Iron Kettlebells
Unlike competition kettlebells, this type of kettlebell increases in size and shape as the weight increases. The handle also becomes wider; thus requiring the use of both hands.
For beginners, the best choice between the two types of kettlebells is the cast iron kettlebell. Given their versatility, you can use them for a wider range of exercises than competition kettlebells. However, once you master proper technique and form, you can proceed to use competition kettlebells.
Factors to Consider When Purchasing a Kettlebell
Here are a few things you need to consider when buying your first cast iron kettlebell.
Grip and Handle
Almost every kettlebell comes with a seam on the underside of the handle. This seam tucks in the metal used to create the handle. Make sure the kettlebell you buy has its seam filed down.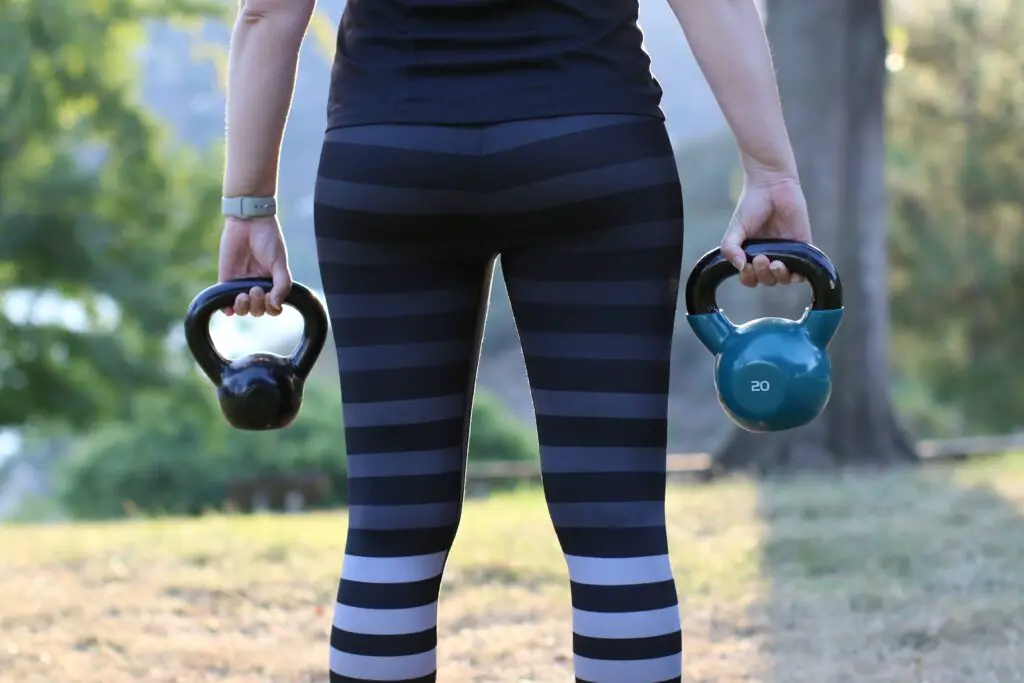 A seam that hasn't been filed down can make working out a painful experience. You can check if the manufacturer has filled a seam down by simply running your hand on the underside of the kettlebell's underside. A properly filled down handle allows you to grip the kettlebell better.
Diameter of the Handle 
The diameter of the kettlebell's handle is another essential factor to consider when purchasing one. After all, nobody wants to struggle to place their hands inside the handle when working out. Therefore, make sure you find a kettlebell that will comfortably fit the size of your hands.
Remember, kettlebell handles, especially cast iron kettlebells tend to become thicker as the weight increases. While good kettlebells will have a handle diameter of 30 to 31 mm, you can also buy one with a diameter of 38 mm if you'd rather buy heavy kettlebells.
Base
Another important factor to consider when choosing the right kettlebell to purchase is its base. A kettlebell base helps prevent marks on your floor. Some kettlebells come with a flat base while others have a spherical base. For workouts like renegade rows, you will require one with a flat base.
Surface Finish
Every kettlebell has a different finish. For some, you can expect a vinyl enamel powder finish while others have a black powder coating. The advantage of using black powder-coated kettlebells is that they have the best grip. That way, you won't have to use chalk while working out.
Kettlebell Construction
Manufacturers build kettlebells in two ways. One is by assembling the handles with the kettlebell weight while the other is by using one-piece casting.
The disadvantage of handles assembled with weights is that the hand may come off after some time. To avoid any injuries, try to avoid such kettlebells and go for one-piece casting kettlebells.
Conclusion
Kettlebells are an important addition to any gym. By having the right information on what weight to purchase, you can go ahead and purchase one that will benefit your body and workout routine.