​Using kettlebells in your workout makes for a highly effective exercise routine. You probably love kettlebells for their calorie burning power and high versatility. You also probably have to go to the gym every time you want to do a workout with kettlebells. If you want to do a home workout, kettlebells are not always feasible. It is not easy to find cheap kettlebells that you have room for in your home.
​To combat some of these issues, we suggest people turn to adjustable weight kettlebells. Buying an adjustable kettlebell can provide for the workout you need at your convenience. They are much less expensive than buying a whole set and certainly save valuable space in your home.
​T​he Top Adjustable Kettlebell​
A quick internet search will show you that there is a plethora of adjustable weight kettlebell options out there. It can be overwhelming to try to find the best adjustable kettlebell for your needs.
That's where we come in. We will discuss important features, and what you should be looking for when purchasing a top adjustable kettlebell model, some of the benefits of kettlebell training, and some of the different types of kettlebells, as well as provide our recommendation.
Our Adjustable Kettlebell ​Reviews
With so many adjustable kettlebells out there trying to pick the right one can easily become a daunting process. We have taken all the different features into consideration to provide you with what we feel are the best of the best adjustable kettlebells. Keep reading to find our detailed adjustable kettlebell reviews. We have also provided our runner ups for additional options.
Brand
Best Overall
Titan Fitness Adjustable Kettlebell​
Best Easy to Use
Powerblock Kettleblock​
Best for the Money
Kettlebell Kings Adjustable Kettlebell
Product
Adjusted Size
includes 6 drop cast iron plates
Increments: 5, 8, 12, 20 lbs.
10, 15, 20, 25, 30, 35 or 40 pounds
Best Overall
Brand
Titan Fitness Adjustable Kettlebell​
Product
Adjusted Size
includes 6 drop cast iron plates
Best Easy to Use
Product
Adjusted Size
Increments: 5, 8, 12, 20 lbs.
Best for the Money
Brand
Kettlebell Kings Adjustable Kettlebell
Product
Adjusted Size
10, 15, 20, 25, 30, 35 or 40 pounds
Our Choice: Titan Fitness Adjustable Kettlebell​
When you're looking to save space and money while still getting a versatile workout, the ​Titan Fitness 10-40 lb Adjustable Kettlebell is just the piece of equipment you need. This kettlebell has weight plates that you add or remove to adjust the weight.
There are six weight settings on this adjustable kettlebell, and the weight range is 5-40 pounds. This large range makes it suitable for most kettlebell workout needs. The Titan Fitness Adjustable Kettlebell allows you to change your workout to suit your needs without leaving the comfort of your home.
The locking mechanism works by unlocking the weights via a lever on the top of the bell. Adjusting weights is easy and simple. Once you have your desired weights in place you simply switch the lever back to the locked position and you are ready to go. The only downside is that the weights all have to be in a specific position, which can take a few tries to pick up on. It also lacks instructions which means you have to figure it out on your own, but once you've done it a few times it should be easy to maneuver.
​No matter where you are in your fitness journey this kettlebell can work for you. It is suitable for beginners and advanced kettlebell users alike. The wide grip handle makes two handed exercises a breeze. In addition, the flat base gives it the capability to be stored anywhere in your home with no fuss (and without damaging your floor in the process). It is slightly larger than a normal 40lb kettlebell, but still has the traditional shape.
The durability of this adjustable kettlebell rivals its more traditional counterparts. The powder coat finish allows it to stand up to chips and scratches. The cast iron material gives it the strength required for your most intense workout sessions. Plus, it is made by Titan Fitness, who has a 100% satisfaction guarantee, so you know it is manufactured by a place you can trust.
Most importantly this 40lb adjustable kettlebell has a price tag you can get on board with. The 40lb version costs around $100, which is signifantly less than some of its adjustable kettlebell counterparts. That's also a pretty good deal when you compare it to buying an entire set of traditional kettlebells.
Runner Up: Powerblock Kettleblock​
The ​Power Block KettleBlock has a unique square design, extremely different from a traditional kettlebell.
Powerblock weights has been a powerhouse in the fitness world for about thirty years. They made their mark making specialty fitness equipment to fill specific needs, so it is no surprise that they came out with a really great adjustable kettlebell.
While this may be off putting to some, it actually makes storage much easier than the traditional round kettlebell style.
There are two options for weight range, 5-20lbs or 8-40lbs. Both models make for highly variable workout options, although we recommend you go for the 8-40lb option, as it will expand as your workouts do. The 40lb option will provide you with a whopping eight weight options. That is a huge amount of weight choices in just one piece of equipment.
It works with a pin locking system that is safe and simple. You won't find any rattling to distract you here! It also includes a color coded weight chart on the bell for quick weight changes. It is a truly easy system to use that will feel secure every time.
Powerblock Kettleblock comes with a lifetime home use guarantee. It is highly resistant to being dropped and has little risk of breaking.
The only downsides of the Powerblock Kettleblock are the handle and the price. The handle has a square design that can put extra pressure on the forearms with some exercises. This may require you to modify a few of your routines. It is also more expensive than some other options. While it is high quality, the price may not work with every budget.
Runner Up: Kettlebell Kings Adjustable Kettlebell
The Kettlebell Kings Black Adjustable Kettlebell is similar to the Titan Fitness version in shape and locking mechanism. It has the round shape of a traditional kettlebell and weight plates that can be removed when the lever on the top is turned.
This locking mechanism is user friendly so people of all experience levels can figure out how to safely adjust the weights. This adjustable kettlebell can replace seven traditional kettlebells with weights ranging from 10-40lbs. It is made from high quality materials designed to last like a traditional kettlebell.
One of the outstanding elements of this adjustable kettlebell is the handle. It is designed for the perfect grip. It is completely smooth, the handle is wide enough for two hands, and it has a window that is a great size for your hands to pass through.
Another stand out detail is the soft padding on the bottom of the bell to protect your floors when storing or moving. It's a small detail, but it makes it a great addition to a home gym.
This model of adjustable kettlebell lacks a labeling system for their weight plates, which can slow down the process of changing weights. There are also gaps in between the plates which can irritate your arms when doing moves where the plates rest against you.
While this kettlebell will still save you money compared to buying a full set, it is a little more expensive than some of its competitors. It may not be budget friendly and has a few downsides in the design, but overall it is a solid adjustable kettlebell meant to last and diversify your workouts.
Runner Up: Rocketlok Adjustable Kettlebell​
The​ Rocketlok 24-36 Adjustable Kettlebell has the most unique locking mechanism of the adjustable kettlebells on our list. It works with weight cylinders that are placed inside a kettlebell body. The cylinders make a weight range of 24-36lbs.
The weights fit together completely flush so there is no rattling or movement inside the kettlebell. The part that locks the weights in looks more complicated, but it is actually more straightforward than it appears.
One of the best parts is that it really looks like a kettlebell. No matter what the weight you're working with the Rocketlok maintains its shape so you won't be thrown off. Additionally, it is made of steel so you know it is built to last.
​The handle on this kettlebell is wide enough for two hands but it is thick. If you have smaller hands you might find it difficult to close your grip. You also may be hesitant about the lowest weight being 24lbs, which might be too heavy for a beginner.
The Rocketlok costs well above $100, which puts it at the high end of the price range. It is expensive and not the best choice for beginners, but the good outweighs the bad with the traditional kettlebell look and the weights that fit together for no noise or movement.
Rocketlok 24-36 Adjustable Kettlebell
Solid cast steel body and handle with weighted interior cylinders milled from sold steel. Molded...
Adjust weights from 24, 28, 32, 36 pound
Adjustable kettlebell that retains the traditional shape
Honorable Mention: Empower Adjustable Kettlebell​
The Empower Adjustable Kettlebell is designed for women just starting their kettlebell training. The weight range is 5-12lbs with just three weight settings. While the range is small, it is lightweight making it highly portable.
It uses a lever mechanism to remove weights from the bottom of the weight. It is easy to use even for those who are nervous about the prospect of changing the weights. It is filled with sand and has a plastic shell. This means it is not as durable as some of your other options.​
The best part about it is it is the cheapest adjustable kettlebell you can find. The Empower will cost under $50, and even comes with an instructional video!
Clearly, this adjustable kettlebell is meant for beginners since it doesn't have many weights. While it might not be a problem for the true beginner, the real problem is that it significantly changes shape when the weights change.
This could lead to learning improper form in future kettlebell training.
​Overall, you can't beat the price and it is suitable for beginners who aren't quite ready to commit to more expensive equipment. It is designed with women in mind, so women are more likely to find this a comfortable and effective kettlebell.
The Best Adjustable Kettlebell Handle
​The kettlebell handle is an adjustable kettlebell alternative. It consists of just a kettlebell handle that you can add your own weights to. A much simpler option, this can be used with free weights, instead of buying a full adjustable kettlebell. It is great for saving even more space and money.
The Kettlebud Adjustable Kettlebell Handle
The Kettlebud Adjustable Kettlebell is made of military grade aluminum. It is able to withstand a huge weight range and can be adjusted to over 100lbs.
It works with a dual pin locking system so you put a pin on top of the weights and another pin below. It fits most common weight plates so you don't have to worry about running out and buying any additional weights just to work with this handle.
It's more affordable than a set of kettlebells and it can handle a massive amount of weight. The handle also has plenty of room for two hands and good grip so you don't have to worry about slipping.
The biggest downside of the handle is that it can be awkward to use. It can get bulky with too much weight on it. The handle will never be quite as sleek as an actual kettlebell, making some workouts more difficult.
In addition, there is some movement of the weight plates with the handle. That being said, this is a highly durable option with the biggest weight range available.
Kettlebud Adjustable Plate Loadable Kettlebell...
Fits Common 50mm (1.97 inch) Olympic Weight Plates - Easily Adjusts from 5 to 100+ Pounds for All...
Full Size Handle Provides Superior Control and Reduced Fatigue
Durable Military Grade 356 Cast Aluminum Body w/ Hardened Steel Quick-Release Pins for Fast Weight...
Benefits of Kettlebell Training
People of all ages and experience levels can benefit from kettlebell training. These weights can be used for great cardio and strength training, making them a great option for every workout. One of the things people love about kettlebells is that they are not a boring way to exercise. You can constantly change up your routine using just one piece of equipment.
When used correctly, they are also a very safe way to workout. Kettlebells bells can help train your stability, which means even those with back problems can use them in the presence of an instructor. In addition, they also provide plenty of low impact workout opportunities for those with joint pain, even in the knees.
Kettlebells exercises are regarded as a full body workout. A big part of kettlebell training involves using your whole body. They work on stabilizing, strengthening, and can help improve your overall body composition. A great part of kettlebell training is that they can aid in reaching almost any fitness goal. Training with kettlebells is not just about bulking up, they are a great tool because they fit the needs of almost every individual.
Types of Kettlebells
If you're looking to purchase your own kettlebell, you probably have some experience with them. Even so, there are about as many types of kettlebells as there are uses for kettlebells, which can make for a tiring decision process.
​Fixed Weight Kettlebell
The classic ones that you will most likely find at any gym are the fixed weight, cast iron kettlebells. These are the basic weights that look like a cannon ball with a handle.
Sometimes you will come across traditional kettlebells made of steel, vinyl, or plastic. But, cast iron tends to be the most durable, so you will find that most often.
Some of the most common brands include Kettlebell Kings, Primal Bell, Power Systems, and Rogue. We've included many of these brands here in out adjustable kettlebell reviews.
Sport Kettlebell
Similar to the basic, you have sport kettlebells. These are pretty much the same but are hollow inside and are made of steel.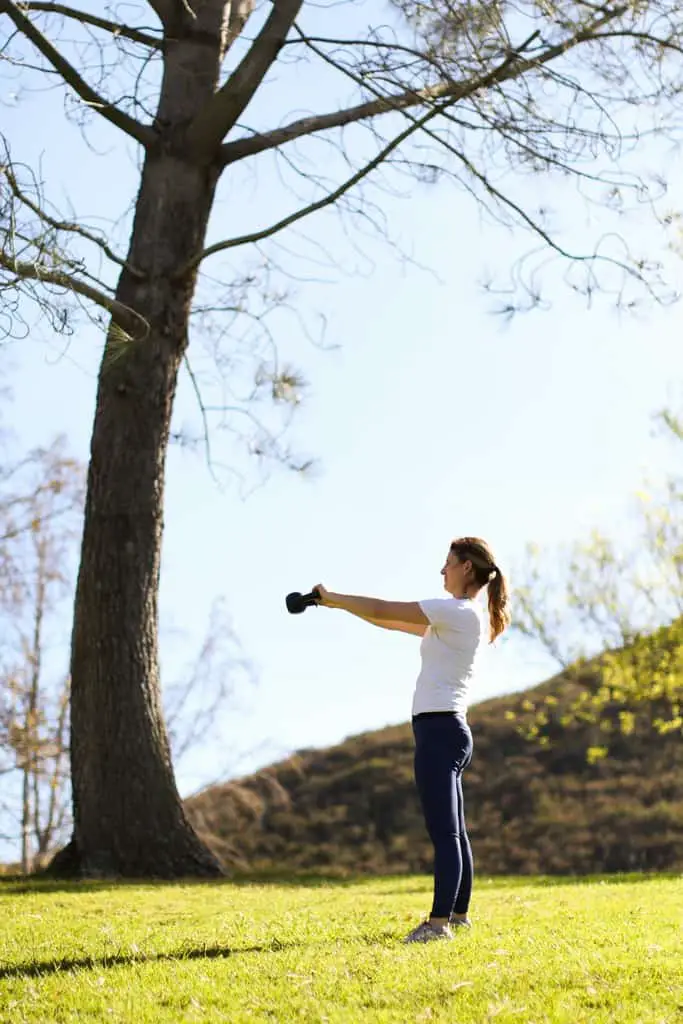 They are designed for kettlebell competitions, and are color coded so the athletes know which weight they are picking up.
Soft Kettlebell
In addition to what you usually think of as a kettlebell, there are many variations out there. One such variation is the soft kettlebell. These consist of a soft shell with weights or sand inside. They are useful because they provide the same exercises without the potential for damaging floors or surrounding objects.
Adjustable Kettlebell
Then there is the adjustable kettlebell, which also has a few variations. The basic adjustable kettlebell looks like a kettlebell, but consists of weight plates that you can add or remove to change the weight. In essence, it is a kettlebell that allows for a wide and varying range of weight.
There are also versions such as the soft adjustable kettlebell and the kettlebell bar. The soft adjustable can be rings of sand on a rope or weights inside a soft shell. The kettlebell bar/handle is a steel bar that you can add your own weight plates on. This is a good option because you don't have to buy the weights to go with it.
There is a type of kettlebell for every taste, but what we are focusing on here is the adjustable kettlebell.
Benefits of Adjustable Kettlebells
There are numerous benefits that come with owning an adjustable kettlebell:
Save Money: when looking to purchase kettlebells, it can be off putting to look at the high price tags that come with them. However, adjustable kettlebells are a cheap kettlebell option compared to buying an entire set of traditional weights. This is often what is most attractive about buying an adjustable kettlebell.
Save Space: another asset of adjustable kettlebells is that they are ideal for the home. It is not easy to find the space for an entire set of traditional kettlebells. With an adjustable kettlebell you get an entire set of weights with just one weight to store. With options like the kettlebell handle it can be even easier to find the space.
Flexible: Adjustable kettlebells are also great for those who are unsure what weight is right for them. If you want to try a few different weights or are looking to increase your weight in the future, getting an adjustable kettlebell allows some room to experiment instead of buying one traditional kettlebell you can't change the weight of.
Transportable: Additionally, adjustable kettlebells are transportable. It isn't really feasible to carry an entire set of kettlebells with you anywhere. However, if you want to head to the beach for a workout or take some equipment on a vacation, you could easily throw an adjustable kettlebell in the back of your car and take your workout on the go.
There are some clear benefits to purchasing an adjustable kettlebell, but that being said it is necessary to do some homework before taking the leap and buying one of your own.
Why You Should Choose Carefully
For as many great adjustable kettlebells as there are on the market there are just as many bad ones.
If you pick the wrong type of adjustable you could end up with something that has a handle too small for your hand to pass through and will therefore be extremely limited in your movements.
While the price of some adjustable kettlebells may be enticing, if you buy one that is poorly made you could end up with something flimsy.
The problems with a flimsy kettlebell could range from an annoying noise when doing swings, to a potentially unsafe device that could cause serious injury.
When you're doing your intense workouts you don't want to be getting distracted by the potential worry that a weight plate could fall off your kettlebell. The most important piece to consider is your safety, but you also do not want to buy a bell that is made incorrectly because it will throw off your form.
It might be easy to get sucked in by a cheap price point, but you want to carefully consider your options before picking your adjustable kettlebell.
You don't want to end up with a piece of equipment that is going to be more trouble than it is worth.
Not only should you be considering which adjustable kettlebell fits your desires, your choice also needs to take into account your health and safety.
What To Pay Attention To
There are many elements of an adjustable kettlebell that you should pay attention to when making your purchase. Choosing the best adjustable kettlebell depends on your needs and preferences, along with specifically how you will be using it in your kettlebell exercises and workouts.
Construction
The material and construction of a kettlebell is important because it determines the durability of the kettlebell. Steel or cast iron are usually your best bet for the kettlebells that are going to last a lifetime.
Adjustable kettlebells have many different compositions, but a common one you will see is steel or iron plates with a plastic base. If you're not dropping your kettlebell from large heights, this type of kettlebell should last you a long time.
You want to find a kettlebell made of high quality materials for durability and safety. If you're considering a soft adjustable kettlebell, keep in mind it will be less durable than one made of steel or iron.
Paint, Coat, and Color
Most standard kettlebells are found in pure black, unless they are competition bells, but you can find almost any color you want in traditional or adjustable kettlebells. Black and grey are the most common options but it is not impossible to find blue, red, or even an adjustable kettlebell that has a different color for every weight.
When looking at paint for kettlebells it is inevitable that the color will have to stand up to some pretty rough usage. A kettlebell with a powder coat will have the most durable paint and will therefore be most resistant to scratching and chipping.
Another option in some kettlebells is a rubber or vinyl coating, which is better for not damaging floors, and can also come in a wide array of colors.
Design and Build
When looking at the design of adjustable kettlebells you'll quickly find there is a huge variety for you choose from. Many look much like a traditional kettlebell where you can just slide weight plates on and click them into place.
This is probably a good choice if you want to get as close to a traditional bell as possible. But you will also find some with totally different shapes, including squares and oval shapes.
There are also a few different options for ways to adjust the weights, so you will want to find one that is comfortable for you. You'll want to find something that is easy to use and safe so this is where the locking mechanism becomes important.
Weight Options
With an adjustable kettlebell you get the benefit of having a range of weights to choose from but you still need to pick the right range for you. This depends on where you are in your training. Most women usually begin training somewhere between 15 and 18lbs, while most men usually start with 35-45lbs. This is probably a good place to begin your search.
There are some adjustable kettlebells that come with just 3 weight options and some that come with more than 7 weight options. The average maximum weight is approximately 40lbs for an adjustable kettlebell. In the end, it all depends on your needs. Of course weight range is just one of the pieces to consider in the decision process.
Handle Size and Shape
The handle is the part of the kettlebell that you will deal with the most so you want to make sure it is comfortable for you. You'll want to look for one that has a good grip, that doesn't feel like it will slip out of your hands when you're working up a sweat.
However, it shouldn't be so rough that it tears up your hands. It is also important to get one with a big enough window between the handle and bell for your hand to completely pass through.
If you have big hands you'll want to be extra careful to get a handle that is wide enough to fit two hands. If you have small hands you'll want to check to be sure you feel comfortable closing your grip on the handle. Overall, the best adjustable kettlebell will feel just right in your hands.
Keep in mind that painted or coated handles can become difficult to work with after using them for a long workout.
Locking Mechanism
There are as many different locking mechanisms as there are adjustable kettlebells. The locking mechanism is perhaps the most important part of picking an adjustable kettlebell because locking the weights in is what makes it safe to use.
Some use a switch from the top that locks the weights in place. This model is fast and simple so anyone can work with it. Other options include a pin locking system, twisting system, and a clicking in system. In the end you want to pick one that is easy to use and comfortable.
You should also look for a locking mechanism that feels solid and doesn't allow the plates to rattle. Safety is the most important part so don't skimp on the locking mechanism!
Pricing
For many people the price is the most important factor to consider when buying an adjustable kettlebell. A big part of the appeal is how cost effective they are so you will want to find the best possible bargain. While there are plenty of great cheap kettlebell options, sometimes spending a little extra can be worth it.
Often the more expensive adjustable kettlebells have a bigger weight range or are made of better material so they will last you longer. Keep these things in mind when making a decision.
Also, take a look at Amazon before you make your purchase. Often they have some discounted prices or you can even look into buying it used for further discounts.
In the end you'll know you're already saving a good chunk of cash by picking the adjustable kettlebell over the individual kettlebells. No matter your price point you should be able to find the right adjustable kettlebell to fit your budget.
Kettlebells are usually described to be like a "cannonball with a handle." If you've ever been to a gym, it's easy to spot them together with other types of weights like dumbbells and weight plates.
Essentially, they work the same way, but the extent of their effectivity and purpose exceeds that of the others. If you're ready to up your workout, kettlebells are a must-try.
Why You Should Use a Kettlebell in Your Workouts
Jason Brown, the owner of Kettlebell Athletics Philadelphia, endorses the kettlebell "if your goal is to burn fat, increase power endurance, and get strong." Researchers have evidence to show that the results from including kettlebells in your workout does contend with the results of regular trainings, if only a little.
The three goals are achievable, and yet they don't fully encapsulate the positive effects of using a kettlebell. There are a multitude of reasons why using the kettlebell is becoming a trend among gym-goers nowadays, and this list just about sums it up.
Ups Your Workout
When a certain exercise doesn't get your muscles shaking anymore, you add weights or use equipment. In the same manner, a kettlebell increases the intensity and difficulty of your exercise routines.
A fitness lifestyle constantly moves up. The way to maintain and improve is to constantly increase the challenge for your muscles as they get stronger. The kettlebell does that for you without the need to double your time in the gym or the number of reps you do.
That said, University of Waterloo's Stuart McGill's research concludes that kettlebells put more "lateral force on your vertebrae compared to conventional barbells", so getting the proper form right is essential before attempting any kind of exercise with a kettlebell. Even though they look simple, kettlebells might not be the most practical to go for if you're a complete beginner.
Dynamic Movements
Everywhere you look about kettlebell workouts, you'll see "explosive, physical movements" put into its description. Many are used to the slow-but-sure movements of traditional weight training using other types of weights.
The kettlebell is less concerned about the slowness or putting isolated tension on certain target muscles. Rather, it's more about the big, quick moves that engages several muscles at once.
The unique shape of the tool with the weight of your liking will help you transition through the movements with flow even though the movements are supposed to be much explosive and sharper. As an added value, it also increases your range of motion.
Full Body Exercise
Many of the kettlebell workouts you'll find are targeting the whole body. Just by incorporating a kettlebell into the workouts you normally do, you're able to use up more muscles in almost all areas of the body in one go.
"The kettlebells naturally contours to your body and allows you to move through big functional movements like the jerk, which hits the quads, the glutes, upper body, shoulder, and tricep," says David Schenk, a strength and conditioning expert.
It's just one example but the same goes for other exercises where the kettlebell is involved.
Cardio
Even though you've trained yourself not to get bored running on the treadmill for 15 consecutive minutes or more at a time, could you really say you enjoyed it? Cardio is tedious, we can all probably agree on that. There's an exception though with kettlebells.
In general, using a kettlebell makes your heart rate rise up.
Calorie-burn
Since using a kettlebell kind of makes any workout impact you like cardio, it promotes what cardio exercises are known for: burning calories. According to shape.com, a study conducted by the American Council on Exercise recently found that "the average kettlebell workout burns 20 calories a minute."
Kettlebell workouts, by design, is very high intensity for a short amount of time. This concept apparently works to burn as much calories during the exercise. According to Dr. Melinda Ratini, "using kettlebells can be a great way to pump up your workout. You will be burning more calories in a shorter period of time."
Weight Loss
To expand on the calorie-burning effect of kettlebell workouts, they also have the ability to amp up your body's repair cycle. What this does is it allows the body to continue burning calories even after the workout is done.
Eliminating calories is one of the main factors for losing weight. To anyone who's aiming for that, kettlebell workouts are an effective way to make it happen much faster without the questionable medications and procedures.
Strength-building
As mentioned, exercises where kettlebells are used work a lot of your muscles at once. For instance, the very common kettlebell swing "activates your entire posterior chain of muscles—your glutes, hamstrings, and erector spinae (back muscles)," according to a coach, Dell Polanco.
It doesn't only tone them for an attractive external appearance, it also builds strength in it. Not only that, multiples joints are also involved. As they provide support in different points in your body, strength in them improves your capacity for more difficult activities, movements, and exercises.
Grip Strength
The handle on kettlebells are thicker than dumbbells. That alone requires more effort on your part to hold the tool.
However, the shape of the kettlebell is different. The way you use it, which is for high intensity, will take more from your hands and arms to carry and lift it than a dumbbell would. Overall, these factors improve your hands' grip strength, and extends up to your arms.
Stability
"Kettlebells take the center of gravity about six to eight inches away from your hand, whereas dumbbells provide more stability," Asst. Fitness and Personal Training Director Nikki Reifschneider says.
This goes along with grip strength but involves overall balance of your whole body. Kettlebells are different this way in that they could really throw you off-balance if not used in the right way with the right form.
Otherwise, the results from the proper use and execution of kettlebell exercises are evident in how you can stand with a more natural centered balance.
Oxygen Restoration   
As a cardio alternative, kettlebell workouts are enough movement to increase your heart rate unlike steady state exercises. Oxygen in your body, more so in the muscles, are used up and the body will naturally try to restore it long after your workout session.
This period of oxygen restoration will aid the muscles as they become more toned after working them out to that new shape and strength. The muscle aches and pains will get better as you bring back the amount of oxygen that was lost in the process.
Increased Metabolism
An added effect of the loss of oxygen is that the restoration period will require more calorie-burning. The rate of your metabolism is sped up at this time, so energy and nutrients from food can be delivered to where they're needed in your body.
You might think an increased rate of metabolism gives you permission to eat as much as you want, but a better use of this advantage is when you eat as much nutrient-dense food as you can. This will allow a faster recovery of your muscles that were stressed during your workout.
Time Efficiency
A common defining word for kettlebell workouts is "ballistic." They're fast and intense, so you don't need to do them for extended periods of time.
According to menshealth.com, "while traditional weights are all about low reps and more weight, kettlebell-specific exercises are designed for higher, faster repetitions performed for a minute or more."
In a 10-minute session, you can do so much and target as many goals, so long as you don't do any shortcuts within the few minutes of the intensive kettlebell workouts. It's an efficient time-saving activity for the busy lifestyles that are a trend nowadays.
Injury Prevention
In any sport, either by team or individual, an athlete will have to be able to make sudden stops or slow down the body in the shortest possible amount of time. This is usually done in transition to a different movement or position, and it's heavily dependent on their deceleration ability.
According to fitness blogger George Guerin, several non-contact injuries are brought by sudden changes in direction, which could have been easily avoided had athletes been "trained to properly slow down."
"Lowering center of gravity and cutting and maintaining an athletic stance" are deceleration drills that are also involved in kettlebell workouts. It makes them ideal for athletes to prevent future injuries.
Simplicity
Incorporating kettlebells isn't complicated.
Common exercises like lunges, squats, and burpees can be enhanced and made more challenging with kettlebells. These fantastic tools can be incorporated into your current workouts. 
Even if you have never done them, most exercises are usually straightforward and easy to follow, not to mention it only requires one piece of equipment.
Inexpensive
Doing kettlebell workouts doesn't have to break the bank. They don't even require a gym membership, if you aren't even in need of every other equipment available in a gym.
The cost of kettlebells could go down as low as below $20. A quick order online will allow you to engage the whole body in training at home. That's triple savings on a lifetime equipment, gym bills, and transportation expenses!
For such a small tool, the kettlebell does so much for the body during and after your workouts, but even more in the latter. It results in both immediate and long-term gains. Its simplicity and straightforwardness make kettlebells a good replacement for the dumbbell.
When alternated with your slow and steady exercises, kettlebell workouts can speed up the process of reaching your fitness goals. For its simplicity and effectivity, kettlebells provide a simple solution to our time-deficient schedules and love for instant gratification.
Conclusion​
No matter where you are in your kettlebell training, there is an adjustable kettlebell to fit your needs. They save space and money, making them a great option for a home gym or for taking workouts on the go. However, there are a lot of pieces to consider when making the purchase.
Keep in mind your needs and uses for the adjustable kettlebell when doing your homework and you'll be sure to make the right purchase.