Ab wheels are among the most versatile exercise tools that can provide you with a rock-solid core. If you're on the hunt for the best ab roller on the market, you must understand the necessary features to make a wise, calculated decision. 
Reviews of the Top Ab Rollers in 2021
An ab roller is a wheel with handles that enables you to do a range of motion exercises targeting the core, lower back, and abs. The following ab wheels offer the best core training that can help you lose weight, build abs, and stay fit. 
Get everything you need to ditch the dadbod by joining this 30-day fitness and nutrition challenge.
Brand
Best Overall
Perfect Fitness Ab Carver Pro Roller
Best for the Money
Fitnessery Ab Roller
Best Cheap Pick
Vinsguir Ab Roller
Product
Best Overall
Brand
Perfect Fitness Ab Carver Pro Roller
Product
Best for the Money
Product
Best Cheap Pick
Product
Best Overall Ab Roller: Perfect Fitness Ab Carver Pro Roller
While this ultra-wide ab roller has a quirky design compared to traditional rollers, the Perfect Fitness Ab Carver Pro Roller combines carbon steel spring systems and ergonomic handles to amplify your rolls, twists, and bends. 
Unlike other ab wheels, this model utilizes carbon steel springs for resistance when rolling out and assistance when rolling back. This means you can extend farther while minimizing pressure on the lower back.
Hence, if you're distressing that you won't roll forward or back, you can rely on this component to give you resistance and smoothness when rolling. 
While most ab rollers contain flat wheels that only allow for rolling straight out and back, this one features a wide, spherical wheel that will engage all of your ab muscles by pivoting to the right and left. Consequently, this helps strengthen deep core muscles that stabilize the pelvis and spine.
The Perfect Fitness Ab Carver Pro Roller also has a tread that grips the floor in a more stable manner. In effect, it boosts your body's balance when carving right or left to work obliques. 
In addition, there are ergonomic grips that reinforce stability. The unique angle design of the handles aims to activate the arm and core muscles by adapting to hand patterns. 
Due to the wheel's rubber cover, you don't have to worry about the roller scratching the wooden floors of your home gym. It won't even affect carpets. 
Despite all of the amazing features, this ab roller only weighs 4.5 pounds, which means rolling it won't put much strain on your body. As a bonus, the roller also comes with a 21-day workout guide with instructions for beginner, intermediate, and advanced routines. 
Overall, the Perfect Fitness Ab Carver Pro Roller is the best ab roller on the market for those who want to combine basic rolling principles and efficiency to guarantee natural rolling movements and unlock the body's potential. 
Product Highlights
Weighs 4.5 pounds yet can support a 250-pound person
Ultra-wide wheel tread for increased stability
High-quality carbon steel core with rubber cover 
Unique handle design for better grip
Padded and ergonomic handles
Perfect Fitness Ab Carver Pro Roller Wheel With...
Ultra-wide ab roller with built-in resistance and ergonomic handles to help maximize results of ab...
Interior kinetic engine uses a carbon steel spring to provide resistance and amplify abdominal and...
Ultra-wide wheel tread offers stability when carving left, right or center for targeted work on...
Best Ab Roller for the Money: Fitnessery Ab Roller
Despite a simple design, the Fitnessery Ab Roller boasts superior quality and core-enhancing features that will help you burn calories, build muscles, and improve overall endurance. 
Even if the wheel is small, diameter-wise, it makes up by having strong stainless steel with non-slip rubber and durable PVC. By combining traction and durability designs, this ab wheel can handle your weight and withstand even the most intense workouts without faltering. 
Aside from that, the wheel has slightly rounded edges that roll seamlessly on any kind of surface. This also helps you balance when rolling toward the side or bending at an angle to hit your obliques. 
Being single-wheeled, the Fitnessery Ab Roller looks like a compact version of an ab wheel. Since it has removable handles, this also becomes the best ab roller for traveling and exercising on the go. 
For the first 10 minutes, your rolls may still be wobbly, especially if you are a beginner. Once you stabilize yourself and the roller, you can start hitting your core very hard.
The non-slip rubber wheel securely grips any floor type, ensuring stable, smooth, and fluid movements. Having said that, you can balance and focus on strengthening the core and toning your abdominal muscles. 
If you're having second doubts about using an ab roller because you think it can cause blisters or bruises, let the Fitnessery Ab Roller's EVA foam padded-handles put your mind at ease. 
Besides, the grips are very thick compared to the rod inside the roller. You won't feel any pain even after using it for more than 20 reps. 
The package also comes with a comfortable knee pad, which is a lifesaver if you have hard or carpet flooring at home. The pad has textured patterns that improve the wheel's grip. You also get nutrition ab workout e-books to jumpstart your fitness journey. 
Product Highlights
Weighs 1.52 pounds yet can support a 220-pound person 
EVA foam padded handles 
Slightly rounded edges for better traction 
Stainless steel and durable PVC for the core   
Single non-slip rubber wheel for stability 
Ab Roller for Abs Workout - Ab Roller Wheel...
Sculpt Your Abs: Fitnessery ab roller acts as your personal fitness trainer - helping you to build...
Life-Time Money Back Guarantee: At Fitnessery, the overall health, fitness, and wellbeing of our...
3 Free Bonus Gifts: Each purchase includes three incredible extras. 1) A comfortable knee pad for...
Best Cheap Ab Roller: Vinsguir Ab Roller
If you want to save money, the Conseguir Ab Roller is the perfect workout equipment for your home gym. Despite having the lowest price tag among the three, this ab wheel brags a wide frame and quality materials that can compete with its counterparts on the market. 
The dual wheel's interior contains stainless steel that can tolerate an impressive 440 pounds. Aside from that, the ultra-wide 3.1-inch design ensures perfect balance and stability. 
Furthermore, you won't fall even if you end up putting all of your weight on this device. Whether you're in the beginner or advanced level, it can sustain long hours of training your abdominal, arm, pectoral, and dorsal muscles.  
The single, narrow wheel version and sloping edge design result in fewer contact areas and shaking left and right. More than that, the Vinsguir Ab Roller's soft wheel surface won't create squeaking noises that disturb other people in your home. 
It also has a layer of rubber that sticks to any surface to prevent you from slipping, whether on wood or carpeted surfaces. As a result, you can hold the rolled out position for more than three seconds. 
Like the Fitnessery roller, this one uses soft EVA in the handles to guarantee a comfortable grip. Even when your hands start to sweat, the foam helps wick away sweat, prevent moisture, bacteria, and musty smell from building up over time. 
All things considered, this versatile workout equipment is the best ab roller for those who want to save money without sacrificing abdominal conditioning, hamstring exercise, and shoulder mobility. 
Product Highlights
Weighs only 1.4 pounds yet can support a 440-pound person
Ultra-wide wheel core
High-strength stainless steel shafts 
EVA handles for comfort
Rubber cover for enhanced grip 
Sale
Vinsguir Ab Roller Wheel, Abs Workout Equipment...
【More Accessible & Hassle Free】The 3.2 inch dual-wheel ab roller offers extra support and...
【Grow Six Packs Faster & Safer】The Vinsguir abs wheel targets your abdominals, hip flexors and...
【Efficient Exercise Equipment】Unlike big gym machines, or heavy weight benches, dumbbells and...
How to Choose the Best Ab Roller 
Now that you've discovered the top-rated ab wheels on the market, it's time to learn what factors to consider when buying the perfect ab roller.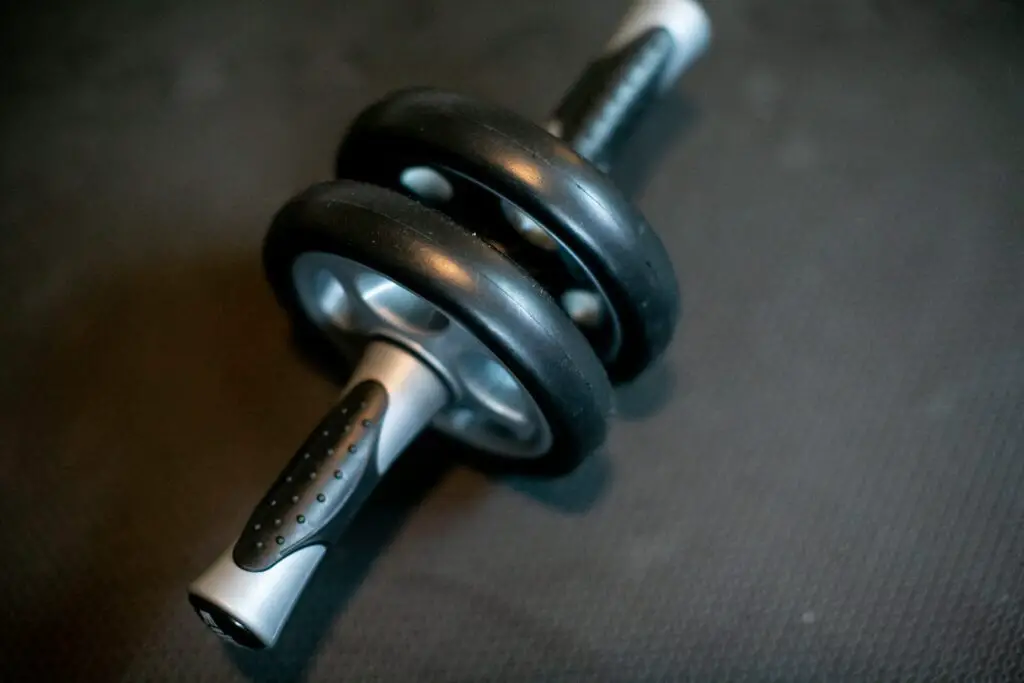 Stable Core or Wheel 
Stability is one of the vital factors when choosing an ab roller. If your exercise tool is not stable, it won't support your weight, causing you to shake or wobble when rolling. 
The best ab roller should have a steel, high-tensile strength core that's covered by a treaded wheel. In this way, the wheel can support your weight no matter how long you need to bend or roll. 
Likewise, it's ideal to have a wider wheel with a contoured surface, so that you can use it on multiple types of floors. If your home gym has hardwood or tiles, you may want an ab roller with a rubber strip down the middle for extra traction. 
Ergonomic Handles and Soft Grips
Another thing you should check is whether your ab wheel has cushioned or padded grips to avoid straining or irritating your palms. This is why it's common for ab rollers to use foam or rubber to create ergonomic handles. 
Furthermore, the best ab rollers must have well-designed handles that don't easily get thin after hours of use. It should also be able to hold out against sweat and force. 
Remember, a considerable portion of your weight is on your hands when using a roller, so the handles need to be sturdy enough even if you constantly hold the roller.
In the same way, consider whether you can comfortably grasp the size of the handles.
Sturdy Material 
Materials are crucial because they prevent you from slipping or the ab roller from breaking.
It's important that your ab wheel has high-quality materials to avoid accidents while ensuring longevity.
While most ab rollers use rubber wheels, there are still some that contain tread. Ab wheels with tread deliver better stability and traction, which are helpful whether you use a yoga mat or not.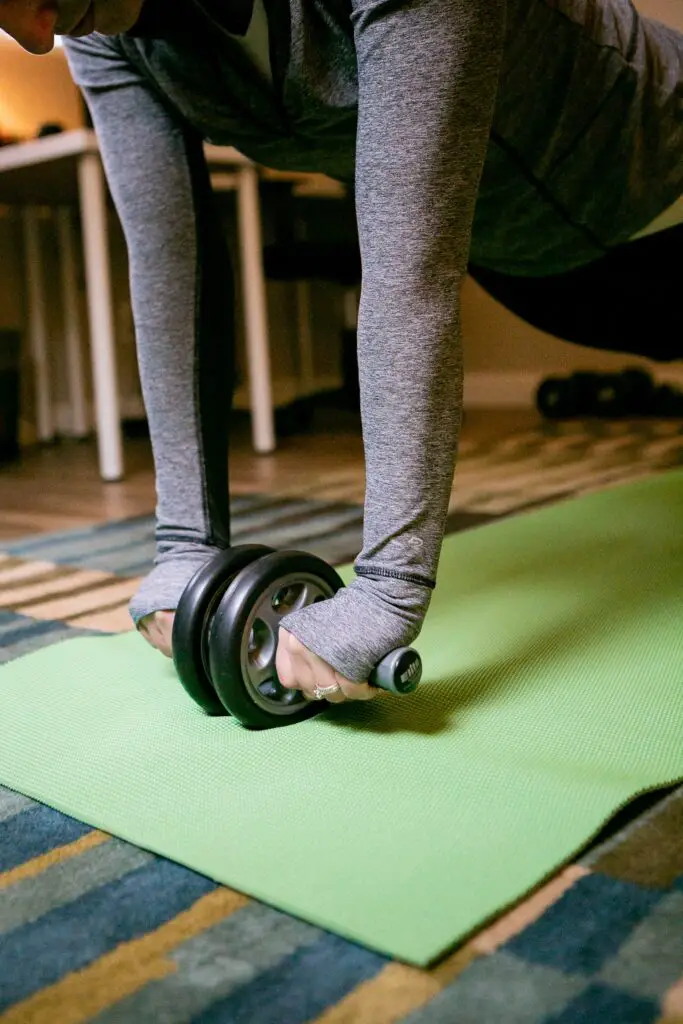 Lastly, check if the roller's handles use stainless steel or durable PVC. If it does, it will provide a better grip and comfort while also guaranteeing durability. 
Wrapping Up
The best ab roller must be ergonomically designed and sturdy enough to support your weight when doing ab wheel exercises. Even if the products differ in some aspects, they all have the essential factors of an ab wheel. 
Make sure to partner ab roller workouts with a balanced diet and good sleeping patterns to gain a healthier lifestyle.