An adjustable kettlebell makes a great idea for any home gym. Even better are adjustable weights that can be used for kettlebells, barbells, or dumbbells. When you purchase the Fitness Gear Adjustable Kettlebell Plates, that is exactly what you are getting.
​Fitness Gear Adjustable Kettlebell Plates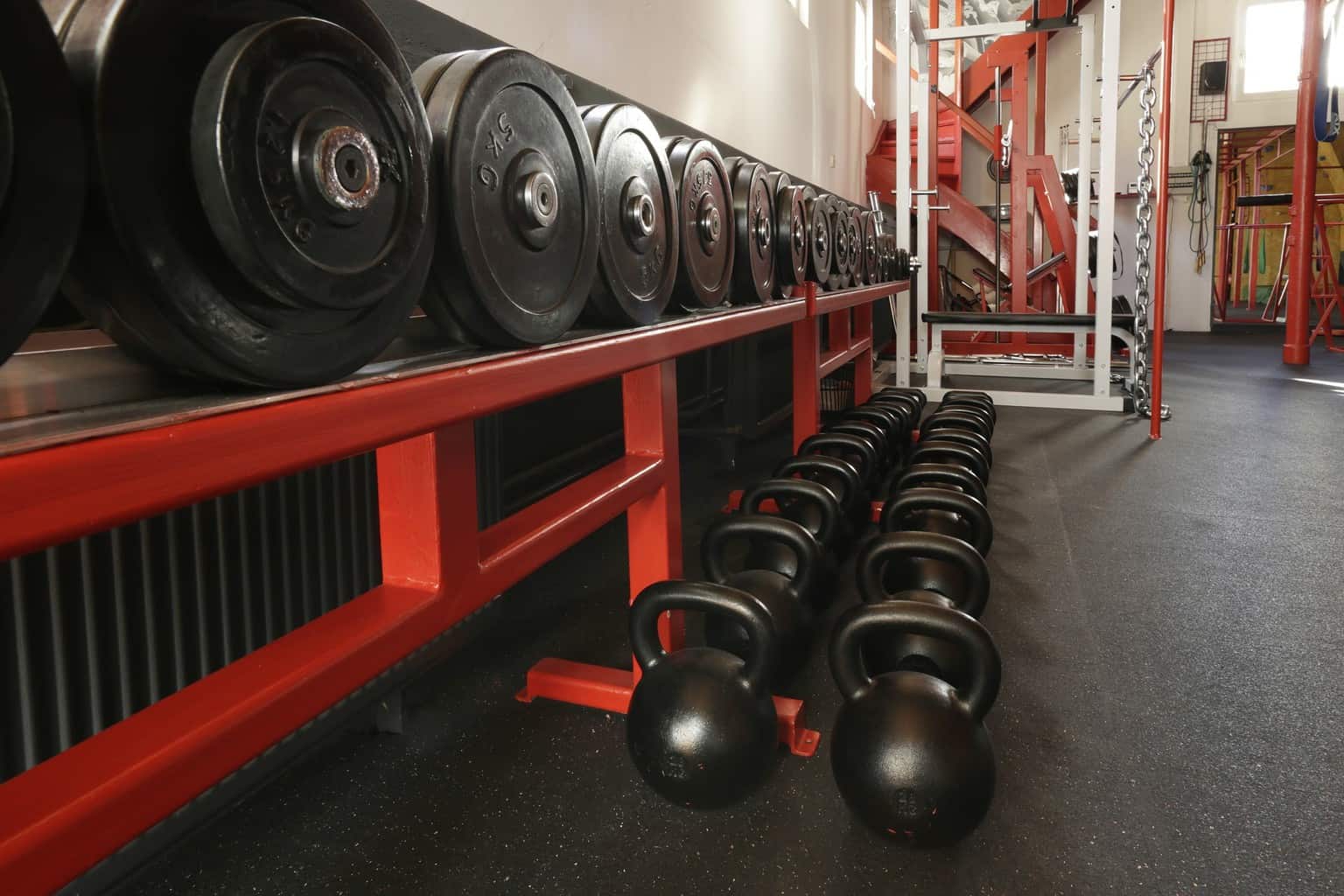 ​Fitness Gear Overview
The Fitness Gear Adjustable Kettlebell Plates are cast iron weight plates designed for fitness gear barbells and kettlebells. The strength of the cast iron gives these weight plates high durability for years of use.
These weight plates can be used for all the exercises you need free weights for, but with the added benefit of being able easily transfer from barbells to kettlebells.
They are equipped with handles for easy carrying and gripping, like these adjustable kettlebell handles. Additionally, they are made with a smooth finish so they are not rough on the hands. These weights were designed with transportation in mind.
When using equipment with weight plates, ease of transport is important to take into consideration. One of the best parts of adjustable equipment is that you can take it with you for workouts on the go. So, the fact that these plates are easy to move is a huge plus.
While these plates are typically used for barbells or the adjustable kettlebell, Fitness Gear also makes an adjustable dumbbell set that they can be used with. It includes 40lbs of the weight plates and two barbell handles.
All of this comes with a convenient plastic carrying case that is perfect for taking multiple dumbbells with you wherever you go.
​What Fitness Gear Includes
Fitness Gear standard cast weight plates come in 2.5, 5, 10, and 25lbs.
They can be purchased as 2″ Olympic plates or as 1″ standard weight plates.
If you want to use them for the Fitness Gear Adjustable Kettlebell, you need the one inch plates. ​These weight plates are highly versatile with the ability to be used with Fitness Gear kettlebells and barbells.
Additionally, they can be used as free weights for many exercises thanks to those nice handles! If you own Fitness Gear adjustable equipment, then these Fitness Gear ​plates will be an indispensable addition to your home fitness routine.
​Fitness Gear Adjustable Kettlebell Review
Purchasing an adjustable kettlebell is a great option for someone who wants multiple kettlebells, but doesn't want to spend multiple kettlebell money. With an adjustable kettlebell you can usually get of four or five kettlebells in one compact piece of equipment.
​What We Love
With the Fitness Gear adjustable kettlebell, you get 11 possible kettlebells ranging from 20-50lbs. The kettlebell without any additional weights is 20lbs and it comes with 4 spacer disks that can be easily exchanged for the Fitness Gear weight plates.
This Fitness Gear adjustable kettlebell is very easy to use so you should have no problem figuring out how to put the weight plates in.To change the weights, you remove the bottom piece and add weights to the body. The bottom then locks securely in place so no need to worry about the plates moving around or coming loose. It can accommodate 2.5, 5, and 10lb standard 1″ plates.
It is made of cast iron with a powder coat finish for the same durability of many traditional kettlebells. The Fitness Gear also has a wide handle that has enough room for a two handed grip. One thing to note, the handle is almost square, more like a competition kettlebell than a standard kettlebell.
​The price is on the low end of the spectrum as far as adjustable kettlebells go. Therefore, if you already own weights to put on it, this adjustable weight kettlebell is a great deal!
​What We Don't Love
This adjustable kettlebell works like any other kettlebell, ​giving you a great cardio exercise or a complete strength training workout. The only real difference is that the shape is more of a cylinder than a sphere, so if you're looking for something more like a traditional kettlebell, this may be a problem for you.
It can prove a little bulky, but this is to be expected when you get such a large weight range.
Another potential downside is that if the plates you put on it are different sizes, you're going to end up with a shape imbalance. This can get awkward for some motions, and can even bang into you if you're not paying attention.
This piece of equipment will fit well in your home; however, the biggest downside of this adjustable kettlebell is that the plates don't come with the kettlebell. While the bell is 20lbs out of the box, if you want to make it adjustable you have to buy the weight plates separately.
While this is a relatively cheap adjustable kettlebell, if you add the cost of multiple weight plates it adds up to be about the same price as some high end adjustable kettlebells.
​Buying Online
This adjustable kettlebell and weight plates can be bought on Amazon. ​​You can also purchase this adjustable kettlebell in a store.
If you purchase it in a store you get the added benefit of seeing exactly what you are getting before you buy. You will know you are getting the product you're looking for once you have actually held it in your hands.
The​ downside to purchasing in store is getting the kettlebell and the weight plates home. It can be quite the hassle, given the weight and bulkiness. Ordering online is easy and simple, and the ​Fitness Gear Adjustable Kettlebell Plates are delivered right to your doorstep.
​Conclusion
The Fitness Gear adjustable weights are a great way to save some money while getting a highly diverse workout. When you buy their weight plates you can use them as free weights, barbells, dumbbells, and kettlebells. These weights will last you a long time, even after you use them over and over again with different equipment.
If you have the weights, adding the Fitness Gear Adjustable Kettlebell into your routine is a no brainer. It is a cheap adjustable kettlebell with a huge weight range that will give you the ability to work with eleven different kettlebells. It provides the same workout as a regular kettlebell, even if it is a little bulky.
When you take into consideration all the fitness possibilities that come with Fitness Gear Adjustable Kettlebell plates, it is clear that these weights are a worthwhile purchase.