As you get more serious about weightlifting, you may decide that you want to purchase a set of dumbbells for your home. However, buying a bunch of dumbbells of different weights can be costly. In addition, you may not have space in your home to store six pairs of dumbbells.
The solution to this problem is the adjustable dumbbell.
​What are Adjustable Dumbbells?
With adjustable dumbbells, you can get multiple weights in one compact piece of equipment. Many different models of adjustable dumbbells exist and finding the right one for you can seem like a big task. That is why this article will help to break down all the different models so that you can find the best adjustable dumbbell for your budget and fitness needs.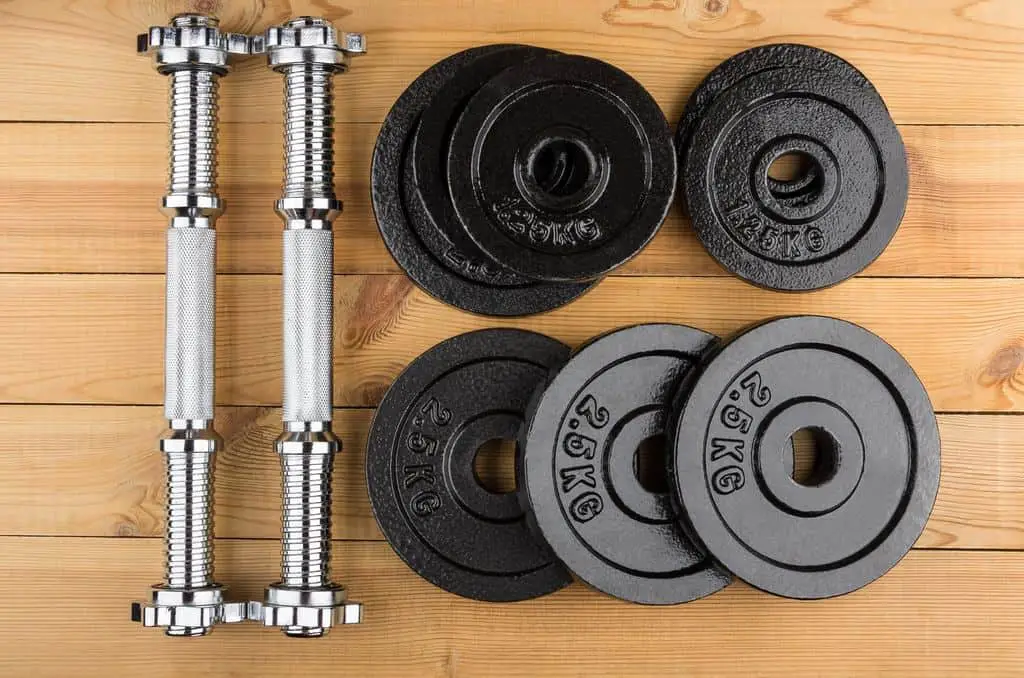 ​The Best Adjustable Dumbbells
Brand
Best Overall
​Bowflex SelectTech 552 Adjustable Dumbbells
Best Weight Range
PowerBlock Elite 90 Dumbbells
Best Basic Model
Bayou Fitness Adjustable Dumbbell
Product
Best Overall
Brand
​Bowflex SelectTech 552 Adjustable Dumbbells
Product
Best Weight Range
Brand
PowerBlock Elite 90 Dumbbells
Product
Best Basic Model
Brand
Bayou Fitness Adjustable Dumbbell
Product
​Bowflex SelectTech 552 Adjustable Dumbbells
​The Bowflex SelectTech 552 Adjustable Dumbbells are consistently rated as some of the best adjustable dumbbells on the market. This is because with this set of adjustable dumbbells you get 15 weights.
The weight range goes from 5 to 52.5lbs. They are composed of a dumbbell bar and metal plates that can be locked on to the bar. The weights also come with a convenient stand that allows you to easily store the plates that are not in use.
Perhaps the most attractive quality about these adjustable dumbbells is how easy they make it to change the weights. All you have to do is turn the dial on the side of the weight stand and you have the exact weight you want. It is so simple that your workout will be only minimally disrupted when you need to switch weights.
Another positive aspect of these adjustable dumbbells is that they really feel like dumbbells when you are using them since the shape closely mimics that of a traditional dumbbell.
The only downside of these weights is that you cannot drop them. For ​heavy lifters who need to drop their weights after a set, this can be a real drawback. The Bowflex Adjustable dumbbells are sturdy and won't rattle, but because there are so many moving parts in their machinery dropping them will ruin them.
In addition, they can be a little pricey. However, you are paying for high-quality equipment that will last a long time with proper care.
Overall, this adjustable dumbbell is well worth your money. The adjusting mechanism makes for seamless workouts that feel just as solid as if you were using a traditional dumbbell.
Sale
PowerBlock Elite 90 Dumbbells
PowerBlock is a big name in the world of adjustable weights. They are known for making high-quality equipment with a unique style.
The Power Block Elite 90 ​Dumbbells come in at number two on the list because of their incredible weight range and superior construction. These weights max out at 90lbs and can replace a whopping 28 pairs of dumbbells. The amount of space you will save with these dumbbells can really open some valuable space in your home gym for extra equipment.
These dumbbells are designed to handle some abuse, but still shouldn't be dropped like a regular dumbbell. However, the solid construction ensures that they feel secure while you use them. You won't have to worry about rattling or worry about the weights slipping out. The only exception is that when you are using the lowest setting on the weights, it can feel a bit off balance.
The mechanism for adjusting the weights is also quick and easy to use so you won't have to stop your workouts to adjust your weights.
The drawback of these adjustable dumbbells is that the shape is significantly different from that of a traditional dumbbell. They have a rectangular shape and that can be off-putting to some people who are really looking for the look and feel of a regular dumbbell.
While these weights may not give you the exact feel of an adjustable dumbbell, they do offer a little more hand and wrist support since your hand is inside the block while you're lifting. That being said, these weights can be a bit more challenging for people with large hands. If you do have larger hands you might have difficulties fitting your hands inside the block.
The other downfall of these weights is the price. They run more expensive than most of the other dumbbells on this list, but when you're getting 28 pairs of dumbbells in one piece of equipment they are well worth the investment.
PowerBlock Pro 50 Adjustable Dumbbells, Sold in...
ADJUSTABLE DUMBBELLS SET: Elevate your fitness and performance with strength-training equipment that...
COMPACT & PORTABLE: The adjustable, convenient, and compact dumbbells provide innovative strength...
EASY & QUICK ADJUSTABILITY: Quickly adjust the weight set up or down for your exercise with the...
​Ironmaster Quick-Lock Adjustable Dumbbell System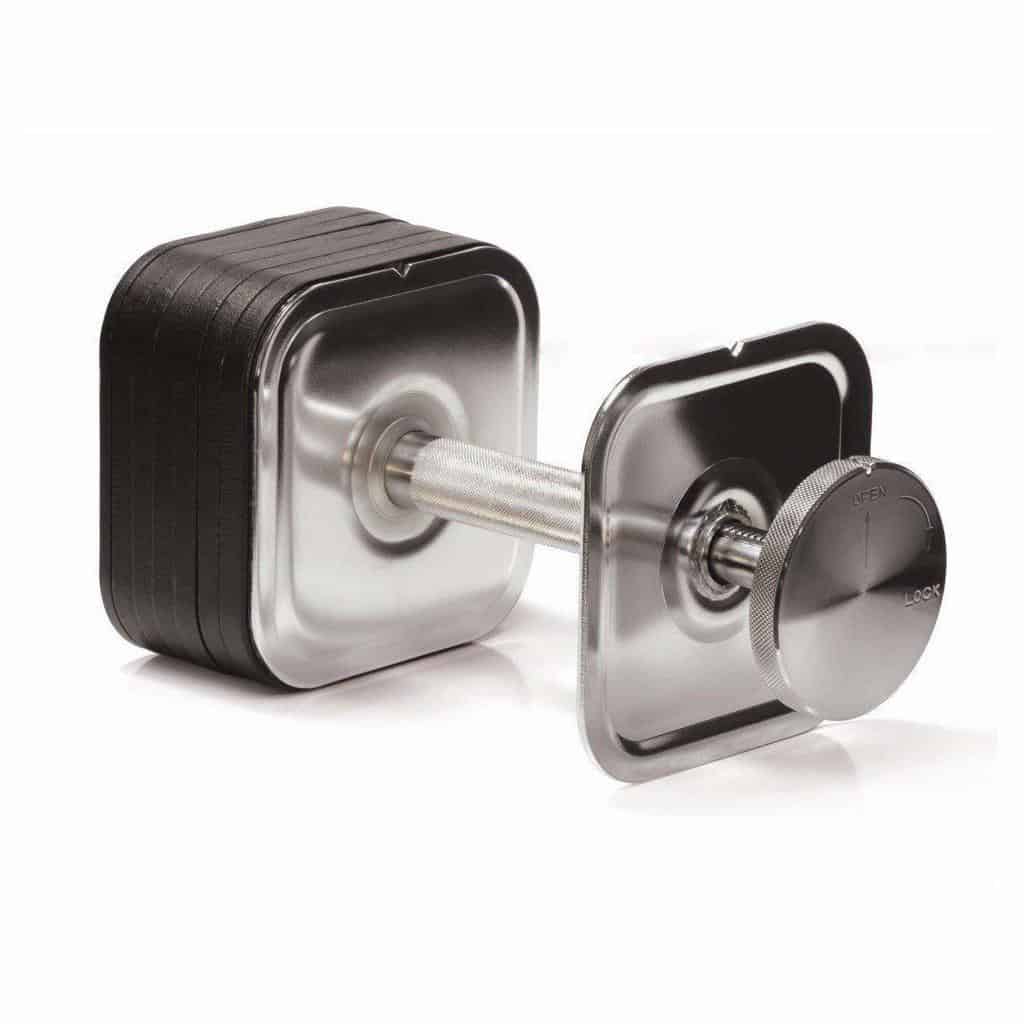 ​Another adjustable dumbbell making the top of the list is the Ironmaster Quick-Lock Adjustable Dumbbell Set.
If you're looking for the adjustable dumbbell that looks and feels as much like a traditional dumbbell as possible then there is no competing with the Ironmaster. The shape of the weight allows it to fit in your hand just like a traditional dumbbell. There are no restrictions in the ways that you can grip them like you might find with other models, such as the PowerBlocks. The way you place the weight plates on also gives it the benefit of feeling perfectly balanced ​and stabilized shoulders while you're doing your lifting.
This may also be the sturdiest set of adjustable dumbbells you can buy. The locking mechanism in some other dumbbells includes multiple pieces that are cause the weight to be more fragile and potentially break. This can prove incredibly expensive if you end up breaking your adjustable dumbbells and have to replace them. These adjustable dumbbells are so sturdy you can even drop them without having to worry about breaking them.
When you buy the set of these dumbbells from Ironmaster you get two handles, four locking screws, and the weight plates that can be placed on the handles. The handles without any weights on them weigh 10lbs each and 65 pounds of weight can be added to each handle, maxing these weight out at 75lbs each. Weight can be added to these handles in 2.5lb increments giving you a huge weight range. You also have to option to purchase additional add-on weights that give you the option to make them as heavy as 165lbs.
This set also comes with a storage stand making it incredibly easy to keep your weights looking organized.
The biggest negative of these weights is that the locking mechanism takes a little longer to adjust than the Bowflex or PowerBlock models, therefore you will have to take some time out of your workouts to change the weights. This means that the Ironmaster weights are probably not the best option for fast-paced workouts that require rapid weight changes.
As far as the price goes these weights are definitely on the high end, but you know you are getting sturdy weights that are not going to break and need to be replaced. Even if they do somehow break, they come with a lifetime warranty so you will never have to be stressed about your adjustable dumbbells.
​Bayou Fitness Adjustable Dumbbells
​​For those who want to tone their bodies but don't need extremely heavy weights, the Bayou Fitness Adjustable Dumbbells will do the job perfectly.
This is a simple no-nonsense system that can be adjusted from 5-25lbs. The weight range is smaller than other adjustable dumbbell systems but most people don't need dumbbells much heavier than that.
These adjustable dumbbells also have the look and feel of a traditional dumbbell making them easy to grip and well balanced. However, it is important to keep in mind that these weights are much bigger than a standard dumbbell so they can cause some movements to be awkward. The bar is also thicker than most standard dumbbells, which can mean people with smaller hands may have trouble grasping them.
As an added bonus, these weights include a plastic storage base to keep your weights and all the plates in one place.
The locking mechanism on these is a slide system, which makes the weight changing process a breeze. They also have chrome plates and no plastic parts so they will keep you working hard on the floor without rolling. Additionally, they are reasonably priced so you won't have to spend an arm and a leg to get your workout in at home.
The two downsides to these weights are the size and the limited weight range, but overall they are a really solid option if you are just looking for a basic model that isn't difficult to adjust.
The price of these adjustable dumbbells is somewhere in the middle. They run on the lower end compared to the top tier models on this list.
Sale
FLYBIRD Adjustable Dumbbell,25 lb Single Dumbbell...
【Suitable for Most Fitness Enthusiasts】FLYBIRD adjustable dumbbell supports diverse strength...
【1-Second Weights Change】One-handed operation design, convenient for fast changing dumbbells'...
【New Structural Design】 Exclusive design of adjustment countweight plate, simply adjust by...
​Core Fitness Adjustable Dumbbell Set
​The ​Core Fitness Adjustable Dumbbells is another one of the best adjustable dumbbells you can purchase. The weight range on this set is from 5-50lbs and the weight can be added in five-pound increments.
These weights are another set that truly mimics the look and feel of a traditional dumbbell. This makes them really perfect for doing any exercises that you would do with a regular weight. The ingenious design of these weights allows them to keep the length of these dumbbells short as you continue to add on more weight. This way the weights don't get extremely long and bulky as you increase the amount of weight on the bar.
Soft-grip handles make the weights more comfortable and give you a firm grasp on these dumbbells so you won't have to worry about the weights slipping or cutting up your hands, like a metal handle might.
The Core Fitness Adjustable Dumbbells are also top rated because of their extremely simple adjustment mechanism. All you have to do is turn the handle of the dumbbells and you're good to go. You will be able to use these weights for any face paced workout where you need to change weights quickly.
They come with floor trays for storage, but Core Fitness also makes a raised tray if you prefer to have your weights stored at waist level. With these weights being so compact, you will have no trouble finding the perfect place for them.
As far as price goes these weights are mid-range. They are an excellent mix of quality and price.
The complaints about these weights are minimal. First, they do have moving parts so they are not going to withstand too much dropping. That being said they do have a sturdy construction and metal plates so you won't have to deal with any rattling. Second, the weight range is respectable, but not huge. Additionally, the weight can only be added in five-pound increments so that will feel like a big difference when you're working at the lower weights. This could prove more challenging for inexperienced weightlifters.
Another difficulty with these weights is that they require careful realignment when being placed back in their racks. This is a minor problem and just requires you to be paying attention, but when you're at the end of a long set sometimes you just want to drop the weights and be done with it.
Core Fitness® Adjustable Dumbbell Weight Set by...
Your purchase includes One Core Fitness Adjustable Dumbbell Weight Set (2), two cradles and an...
Dumbbell only dimensions (each): 14.5" L x 7.9" W x 7.2" H | Assembled dimensions (stand with...
Quick-change weight adjustments with Twist Lock technology. Allows you to change weight setting with...
​XMark Adjustable Dumbbell
​The XMark Adjustable Dumbbells is another solid adjustable dumbbell option if you're not looking for a huge weight range. When you purchase this set you get two adjustable dumbbells with a weight range of 5-25lbs and storage trays for both. They also offer a 50lb option if you need a little more weight.
However, whether you pick the 25lb or the 50lb each set only offers 5 weight settings. So, if you purchase the XMark Adjustable Dumbbells you are replacing 5 pairs of dumbbells. This is plenty for beginners, but for advanced weightlifters, these weights likely won't provide enough of a challenge.
The adjustment mechanism on these weights is similar to the Bowflex and Bayou options. But, when comparing these to the competitors, adjusting them is a little more difficult and not quite as sturdy. The actual weight plates and the handles are made of heavy-duty chrome so you won't have to worry about those pieces breaking.
Although, what you may have to worry about is the locking system. It is not designed to withstand dropping or any other abuse due to the moving parts. Yet, as long as you're careful with these weights they will last you a long time.
They XMark weights are the same shape as the Bowflex, but, because they have fewer weight options, they aren't quite as bulky. That also means that they are a bit more compact and therefore easy to find storage space for.
Sliding these weights into the storage tray also tends to be more difficult than the Bowflex or Bayou competitors.
Considering there are only 5 weight options, the price of these adjustable dumbbells are a little high. The 25lb option costs about half of what the 50lb option costs, so if you are okay with maxing out at 25lbs you can save yourself some money.
This ​is a good choice and will help you meet your fitness goals, but overall there are some better options out there.
​Dumbbells aren't your thing? Don't fret! We've put together a comprehensive review on the best adjustable kettlebell on the market​.
YPC Single Adjustable Dumbbell, Fast Adjust...
Single Dumbbell set Adjustable - Each dumbbell set could be adjusted conveniently from 5 to 52.5 lbs...
Unique Dial System - This adjustable dumbbell combines 15 sets of weights into one, using a unique...
Save Room and Easy Storage - One adjustable dumbbell can save a lot of space, the compact deisgn...
​Best Adjustable Dumbbells on a Budget
Brand
Best Overall
​Yes4All Adjustable Dumbbells
Best for the Money
​CAP Barbell Adjustable Dumbbell Set
Best Cheap Pick
​AmazonBasics Adjustable Weight Set
Product
Best Overall
Brand
​Yes4All Adjustable Dumbbells
Product
Best for the Money
Brand
​CAP Barbell Adjustable Dumbbell Set
Product
Best Cheap Pick
Brand
​AmazonBasics Adjustable Weight Set
Product
​Yes4All Adjustable Dumbbells
​The Yes4All Adjustable Dumbbells are not only the best adjustable dumbbells you can purchase on a budget, but they are also some of the best adjustable dumbbells for serious weightlifters. These weights have many options for what weight ranges you can purchase but they max out at 200lbs, which is huge as far as adjustable dumbbells go.
The good part about these is that you also have the option to purchase a smaller weight range. The lightest set you can buy is 40lbs. Because you can add any combination of weight plates to these handles you have almost infinite flexibility for what weights you can work with.
The weight plates are made of traditional cast iron, so you know they will last forever and not need replacing. The handles are made of textured chrome for a firm grip. You won't have to worry about your hands slipping, but you may have to use some weight lifting gloves if you don't want to cut up your hands.
You adjust these dumbbells with a screw system. You unscrew the locking collar, add the desired amount of weight and then screw the locking collar back on. This works really well to ensure the plates are not loose and there is no rattling, but it does take a little time out of your workout if you need to change weights in the middle.
Additionally, the price of these weights comes in way under any other adjustable dumbbells. They are a great deal especially for the amount of weight you can get.
The only real downside to the Yes4All adjustable dumbbells is storage. They don't come with any specific storage tray and you end up with a bunch of loose weight plates that you have to find a place for. They aren't really as compact as some of the other options and can end up looking messy in your home if you're not careful.
Overall, these weights are more than worth the money. You get excellent quality and an enormous number of weight possibilities for your workout routines, all for a great price.
Yes4All Adjustable Cast Iron Dumbbell - 200LBS...
SET OF 2 DUMBBELLS - 200 LBS TOTAL (100 LBS EACH SIDE): TWO 16"x1.15" handles, SIXTEEN 10-pound...
CAST IRON WEIGHT PLATES FIT 1.15-INCH STANDARD BAR: Accommodate all standard 1.15-inch handles....
16-INCH DIAMOND KNURLED CHROME HANDLE: Constructed of high-quality, textured chrome handle for...
​AmazonBasics Adjustable Weight Set
​​As it turns out, Amazon has it's very on adjustable dumbbell that is similar to the Yes4All weight. You adjust the weights almost the exact same way in both versions, but the Amazon version only goes up to 38lbs. The screw system on these weights is also solid and will help prevent any extraneous noise, but you run into the same issue where you have to take some time out of your workout to adjust the weight.
With the AmazonBasics Adjustable Dumbbells, you can replace 4 dumbbells. This is not a lot compared to fancier adjustable dumbbells, but if you need only a few weights than this is an excellent option. While they don't come with the set, you also have the ability to order more weights to give yourself the option of heavier dumbbells.
The weight plates have a semi-gloss finish to make them rust resistance and maintenance free. Many similar sets in the same price range have plastic handles that are more prone to breaking. The handles are chrome and also have a textured grip to eliminate slippage.
Perhaps the best part about these adjustable dumbbells is the carrying case. The case not only helps you keep your weights nicely organized in your home, but it also makes it easy to take your workouts on the go. With this carrying case, you can do a nice workout outside, you can take a quick workout while on a ​trip, or you can even bring your weights to the gym if you don't feel like sharing during your workout.
The price of these weights is a great deal for the quality of the product. You know that these weights are going to last. Plus, they are backed by an Amazon one-year warranty, so if something does happen you can get a replacement.
Amazon Basics Adjustable Barbell Lifting Dumbbells...
Adjustable 38-pound weight lifting set; great for daily workouts, including arms, shoulders, and...
Includes (2) 3-pound barbells, (4) 0.5-pound collars, and (4) 2.5-pound and (4) 5-pound plates made...
Includes a durable black plastic storage case with carry handle for compact storage and easy...
​Proform Adjustable Dumbbells
​If you're looking for something small but sturdy, then take a look at the Proform Adjustable Dumbbells.
These are great adjustable dumbbells for beginners or for people on the smaller side who aren't looking for too much weight.
This set of weights comes with two weights ranging from 2.5-12.5lbs. This set comes with two adjustable dumbbells, the weight plates, and a color-coded storage tray.
Having a storage tray that comes with the set makes the weights much easier to keep looking tidy. It is always nice to have a designated place to put the weights when not in use. The handle on these weights is soft grip material so you will have a firm grip, and you won't have to worry about tearing up your hands.
The adjustment mechanism on these weights is simple and easy. You won't have to interrupt your workout to change the weights. There is one major drawback with the adjustment mechanism though. It is not as tight as it should be and therefore the weights will shake and cause excess noise while you are working out. You may also have to worry about the pins getting stuck. This can be an annoyance if you are trying to do a fast-paced workout.
These adjustable dumbbells are much smaller than most other adjustable dumbbells. Not only do they have a lower maximum weight, but the dumbbell is only 14 inches long, even when fully loaded. This makes them an ideal choice for smaller or older people since some other adjustable dumbbells can get clunky, even when adjusted to their smallest weight.
Pricing wise, these are little expensive considering you only get 4 weight options. However, you will still be saving a good chunk of money if you opt for these smaller dumbbells.
​CAP Barbell Adjustable Dumbbell Set
​When looking for cheap adjustable dumbbells, you want to ensure that you're not sacrificing safety or quality. With the ​CAP Barbell Adjustable Dumbbells you are getting a great mix of quality.
This adjustable dumbbell set comes with two handles, four screw lock collars, four 6lb plates, and four 2.5lb weights. The weight plates themselves add up to a maximum of 34lbs, but when the weight of the handles is included you end up with 40lbs of weight total. That is the amount that comes in the set, but you do have the option to purchase more weight plates to make your dumbbells heavier.
The plates themselves are made of cast iron so you know they will not need to be replaced. Additionally, the finish is baked enamel, which means your weights will continue to look like new without any chipping.
The spin locking collars on these weights are very reliable and secure. As long as you treat your weights well you shouldn't have any problems with the equipment. That being said the locking collars can come loose if the weights are subjected to dropping and then you may end up with weights that fall off and could cause injury.
While these weights to have some positive aspects, this is another set where you run into the problem of storage. You will have to find your own method of storing these weights since they don't come with any carrying case or storage tray.
Another aspect to note is that the handles of these weights are very short, which is both a positive and a negative. It is good because the weights are less clumsy than some of the options with extremely long handles, but it is not so good because the short handles can make it difficult if you want to add a lot of weight to each side.
Another issue with these weights is the smell of them when they are opened. Many users have experienced an odd smell to these weights. It isn't a huge deterrent, but depending on your level of sensitivity to smell you may want to take that into consideration.
These weights are a great value compared to other weights of the same caliber. You will definitely be saving yourself some money ​when building your home gym if you choose to purchase these weights over some of the more expensive competitors.
CAP Barbell 40-Pound Adjustable Dumbbell Set with...
What's included 40 pound set includes 2 handles, 4 2.5 pound plates, 4 5 pound plates, 4 collars,...
Construction durable cast iron plates have a semi-gloss finish offers a rust and maintenance free...
Features: Set deatures ergonomic grips, comfortable handles, and rubber trimmed collars; Collars are...
​Gold's Gym Vinyl Dumbbell Set
No products found.
​​When you're looking for a cheap option that will get the job done look no further than the ​Gold's Gym Vinyl Dumbbells.
These weights can hold 20lbs per dumbbell for a maximum of 40lbs. The set comes with four 7.5lb weights and four 2.5lb weights.
The best part about these weights is that the price is unbeatable. It's not a big investment so even if you end up not liking the weights you won't be losing too much money. They are solid weights that are perfect for working every part of your body.
However, you may have a few issues with some parts of the weights. The first problem is the adjustment system. These work with spring-loaded locking collars. So you slide on your desired amount of weight and then you place the spring-loaded collar on the end of the weight. While this is arguably a faster system than the screw collars, the springs don't feel quite as secure and you don't want to end up with weights that fall off.
The second problem is that these weights are made of concrete and coated with vinyl. That means that potential breaking of the weights could be a real problem. Neither concrete nor vinyl is the most solid material and if you drop your weights you could end up with cracks.
The third issue with these weights is that they are significantly larger than a standard dumbbell. This could mean that the weights might feel awkward to hold if you are used to a traditional dumbbell. They may even impede some of your workouts.
While these weights are by far the best price, you may be taking a risk on the quality if you buy them for your home. If saving money is your biggest concern than these weights can't be beaten, but if you're concerned about the quality of your weights then you may want to choose a different adjustable dumbbell.
No products found.
​AQOTER Adjustable Dumbbells
​​If you're looking for adjustable dumbbells that are completely portable, then you might want to consider the ​AQOTER Adjustable Dumbbells. They are thick plastic weights that can be filled with water and screwed onto a handle. When emptied the weights can be completely flattened and folded up for easy transportation.
You may be skeptical about the weights being filled with water, but they are actually made with a strong ABS material so you won't have to worry about leaks. To use you simply fill up your weights with water and then screw them on to the handles. They're very simple to adjust and each dumbbell can hold up to 44lbs.
Perhaps the best part about these weights is how safe they are. Because they are not metal, if they get dropped you won't have to worry about any damage to your floors or feet. You know that they are safe for the whole family to use, even children.
The AQOTER adjustable dumbbells are ideal for storing since they can be reduced to take up such a minimal amount of space. You can also take them anywhere, even on camping or backpacking trips.
The biggest problem with these weights is that it does take a while to fill them with water since the only way to fill them is to pour the water into a tiny hole. Yet, for the superior price and innovative design, it may be worth it to deal with the inconvenience, and you can even incorporate these into your 5 day workout plan.
Water Filled Dumbbells Barbells Pair, 20-40KG...
Adjustable 2-in-1 Dumbbell Barbell Weight -- This adjustable water dumbbells set comes with a...
Comprehensive Exercise Set -- Our all-in-one water filled dumbbell-barbell set allows you to have a...
​Important Adjustable Dumbbell Features
​No matter what adjustable dumbbell you choose, there are a few features that you always want to make sure you take into consideration before purchasing an adjustable dumbbell. These features can ensure style, safety, or longevity of the weight.
​Weight Range
​​Weight range is probably the first thing you want to determine when purchasing an adjustable dumbbell. The best part about an adjustable dumbbell is that you can change the amount of weight, so you don't want to buy a piece of equipment that will end up limiting you.
As you saw earlier there are some adjustable dumbbells with huge weight ranges that can go up to 200lbs. For most people, this is a bit excessive, but for serious weightlifters , this much weight might be necessary.
If you want to stick with just the amount of weight that you know you will use, then your best bet is to pick an adjustable dumbbell that has weights 10lbs below your typical weight and 20lbs above. This way you are leaving yourself room to improve, but still giving yourself some good warm-up weights.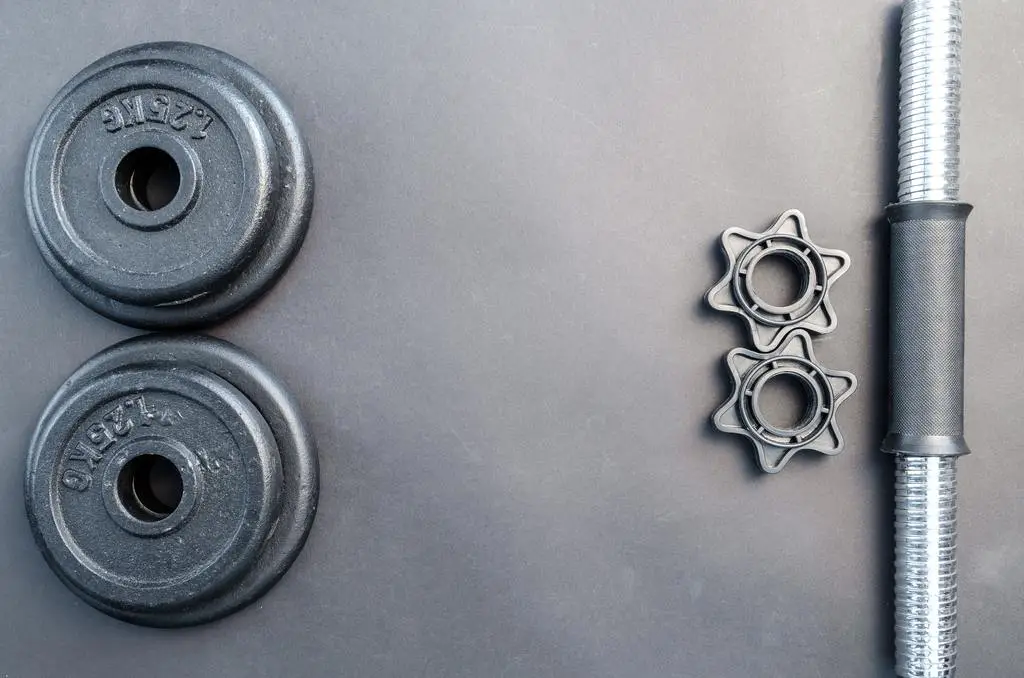 ​Materials
​​What your dumbbell is made of is one of the most important aspects because it essentially determines how long your dumbbell will last. If you buy weights made out of cast iron, steel, or chrome, you can be almost certain that those weights will last a lifetime.
However, materials like vinyl, plastic, and cement are not as durable and you may end up needing to replace your weights down the road. Those materials may be a cheaper short-term choice, but if you continuously need to replace your weights then they will end up costing you more.
​Adjustment Mechanism
​​The way you change the weights on your adjustable dumbbell is of the utmost importance. It is important because an easy adjustment system is more convenient for you and makes your workout smooth and easy. But, it is mostly important because it is a matter of your safety.
If you buy weights with a flimsy locking system, then you could end up with weights that fall off and hurt you.
Whatever adjustable dumbbell you choose you will want to make sure you have tested the weights while doing your most strenuous chest exercises to check for any rattling or weaknesses.
You also want to consider how much movement is involved in the adjustment mechanism. If you buy an adjustable dumbbell with many moving parts, you will find that the adjustable dumbbell is more fragile and therefore more likely to break, especially if you have a habit of dropping weights.
This is extremely important so be sure to do thorough research on the adjustment mechanism before purchasing adjustable dumbbells.
​Price
​​There are adjustable dumbbells for every price range. While most of the best adjustable dumbbells come with a high price tag, there are some really excellent options out there for people with a tighter budget. You don't have to break the bank to get a high-quality adjustable dumbbell.
When deciding if the price of an adjustable dumbbell is worth it, look at how many weight options you're getting, how easy it is to adjust the weights, and the quality of the materials. If you're only getting three weight options but still paying as much as another dumbbell with 8 weight options, then it probably isn't a good deal.
If price is your main concern then there are plenty of cheap adjustable dumbbells out there that are bound to get you back on track on your fitness journey, just make sure you're not compromising on safety.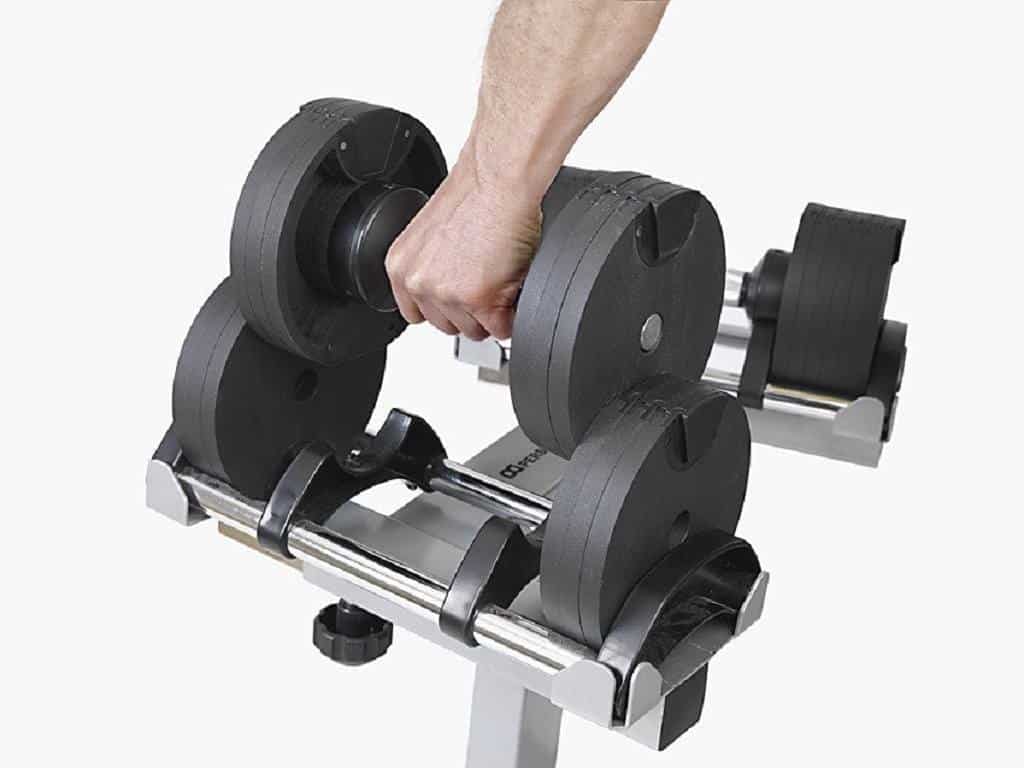 ​Size
​​Adjustable dumbbells are not one size fits all. Because you are adding multiple weights to one handle they can get bulky and difficult to handle.
Depending on what you think you can manage, you may want to look for a dumbbell that is designed to be more compact. Many of the adjustable dumbbells with screw locking systems tend to be smaller because you are only adding the weights you want on it.
You also want to consider handle size, sometimes handles are made thicker for better gripping, but this can prove to be an issue when exercising for women, or people with smaller hands. If you do have smaller hands and are concerned about the comfort of your weights, then you should seriously consider testing your weights before purchasing or working with sellers who have a simple return policy.
​Storage
​​One of the main reasons to purchase an adjustable dumbbell is because they save so much space compared to buying multiple pairs of regular dumbbells. This is why you want to find an adjustable dumbbell that doesn't have too many loose pieces to store.
Any ​weight that comes with a storage tray or carrying case makes it easy, but some just have loose weight plates that you have to find a place for. This can defeat the purpose of having a compact piece of equipment so if you're tight on space you may want to avoid that type of weight.
​Conclusion
​​Finding the best adjustable dumbbell is not an easy task. There are many things to take into consideration before spending your hard-earned money. However, if you establish what you are looking for before you buy, some research will lead you to the best adjustable dumbbell for you.
Adjustable dumbbells come in all shapes and sizes so it can seem like a daunting task, but the perfect dumbbell for your budget and fitness needs is out there. Once you have your adjustable dumbbells you will be so excited about all the space and money you are saving that you will never want to go back to a traditional dumbbell.