Dumbbells have slowly become popular fitness equipment for fitness enthusiasts across the world. The reason for its popularity lies in its versatility and affordability. Like any other body weights, dumbbells come in different shapes and sizes. What makes them different from other weights is the variety of materials used to make them.
What are Dumbbells Made of?
Dumbbells are mostly made of three different materials. These materials include:
Each of these materials come with different strengths and weaknesses. They're also an essential factor to consider when choosing the type of dumbbell to use for your workouts.
Cast Iron
Cast iron is the oldest and most traditional dumbbell material. They come in different weight sizes from 1 kg to 45 kgs. The two different dumbbell styles that come with the cast iron material are the one-piece and adjustable dumbbells.
Unlike the modern version of cast iron dumbbells, the traditional style dumbbells come with a bar and different plate options. You can add different weight plate options to the dumbbell bar and increase the weight accordingly. However, make sure you don't start too heavy when using cast iron dumbbells.
Rubber
Dumbells with the rubber material have a metallic base but are either encased fully or partially in rubber. Partially encased rubber dumbbells only cover the plates. The rubber used to encase the dumbbells are either made from tree sap or synthetic material.
This material is waterproof, flexible, and protects your hands and feet while using the dumbbell.
Plastic
Plastic dumbbells have slowly become a favorite for most fitness classes. They are cheaper compared to other dumbbell materials. They also don't rust, and this makes them a great option for home workouts.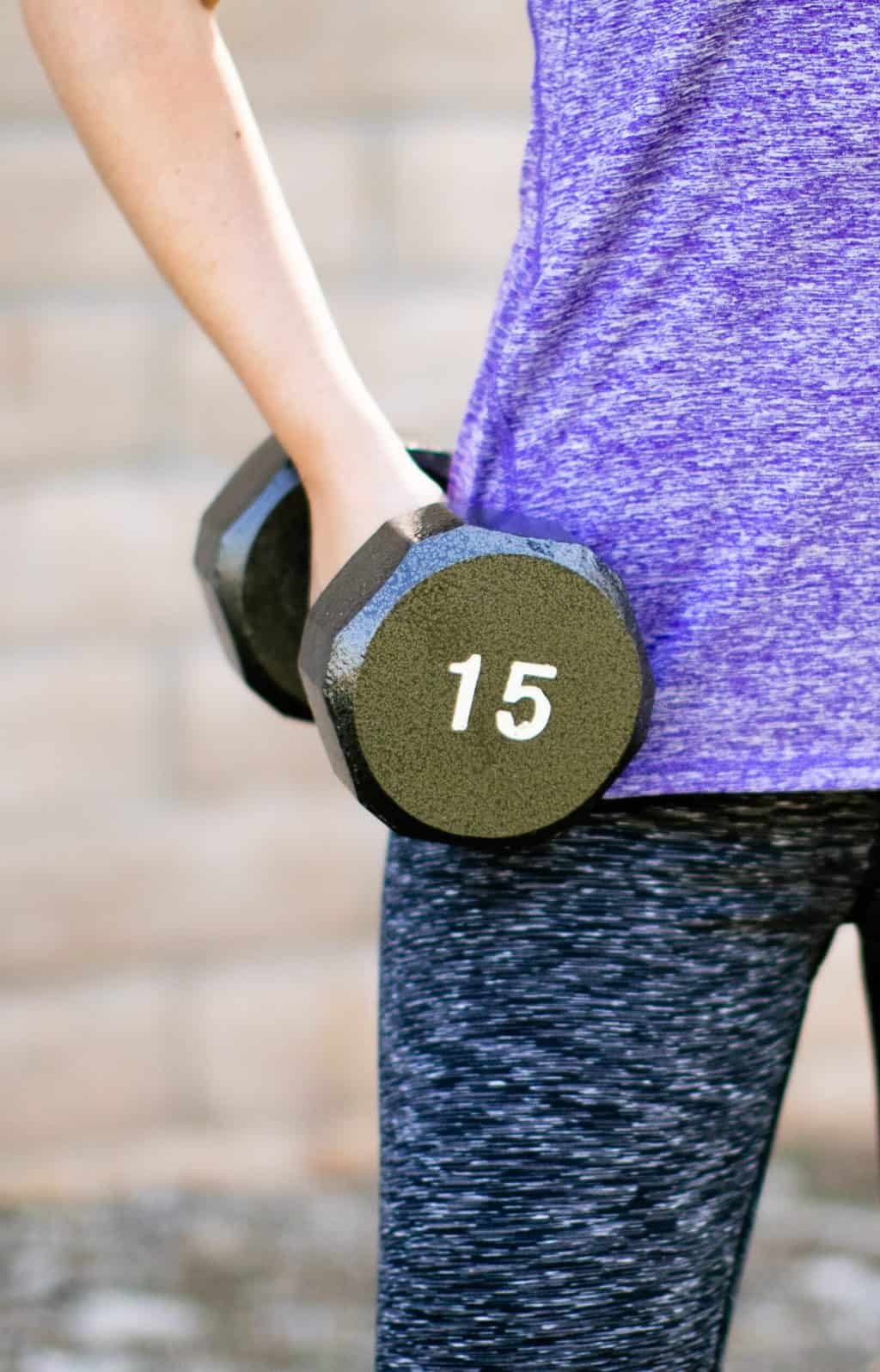 Plastic dumbbells have a hexagonal shape. This shape ensures that they do not roll when stacking or storing them.
Which Dumbbell is Best?
Deciding which dumbbell is best depends on your preference. If you prefer the traditional look and feel of dumbbells, then the cast iron dumbbells should be your choice. However, these dumbbells tend to become slippery when you sweat while working out.
If you are looking for affordable and light dumbbells, then the plastic dumbbells are your best option. If you want dumbbells with a protection case, then rubber dumbbells are your best bet.
Are Metal Weights Heavier than Plastic?
Yes, metal weights are a bit heavier than plastic. This is why fitness experts recommend beginners to use plastic dumbbells. They help newbies learn the technique and proper form to use for each dumbbell exercise. Once you know the technique, you can move on to working with metal dumbbell weights.
What are Neoprene Dumbbells?
The neoprene material is a form of synthetic rubber used to cover dumbbells. Manufactures dip cast iron dumbbells in different neoprene colors to not only stand out but also completely encase the dumbbells. What makes the neoprene dumbbells different from other materials is its grip ability.
You don't have to worry about the dumbbell slipping off as you work out, as the neoprene dumbbell absorbs the sweat.
Are Neoprene Dumbbells Good?
Unlike plastic and cast iron dumbbells, neoprene dumbbells are an excellent option for people who sweat too much as they work out. Neoprene dumbbells have a smooth coating that makes it easy to grip the dumbbell as you exercise.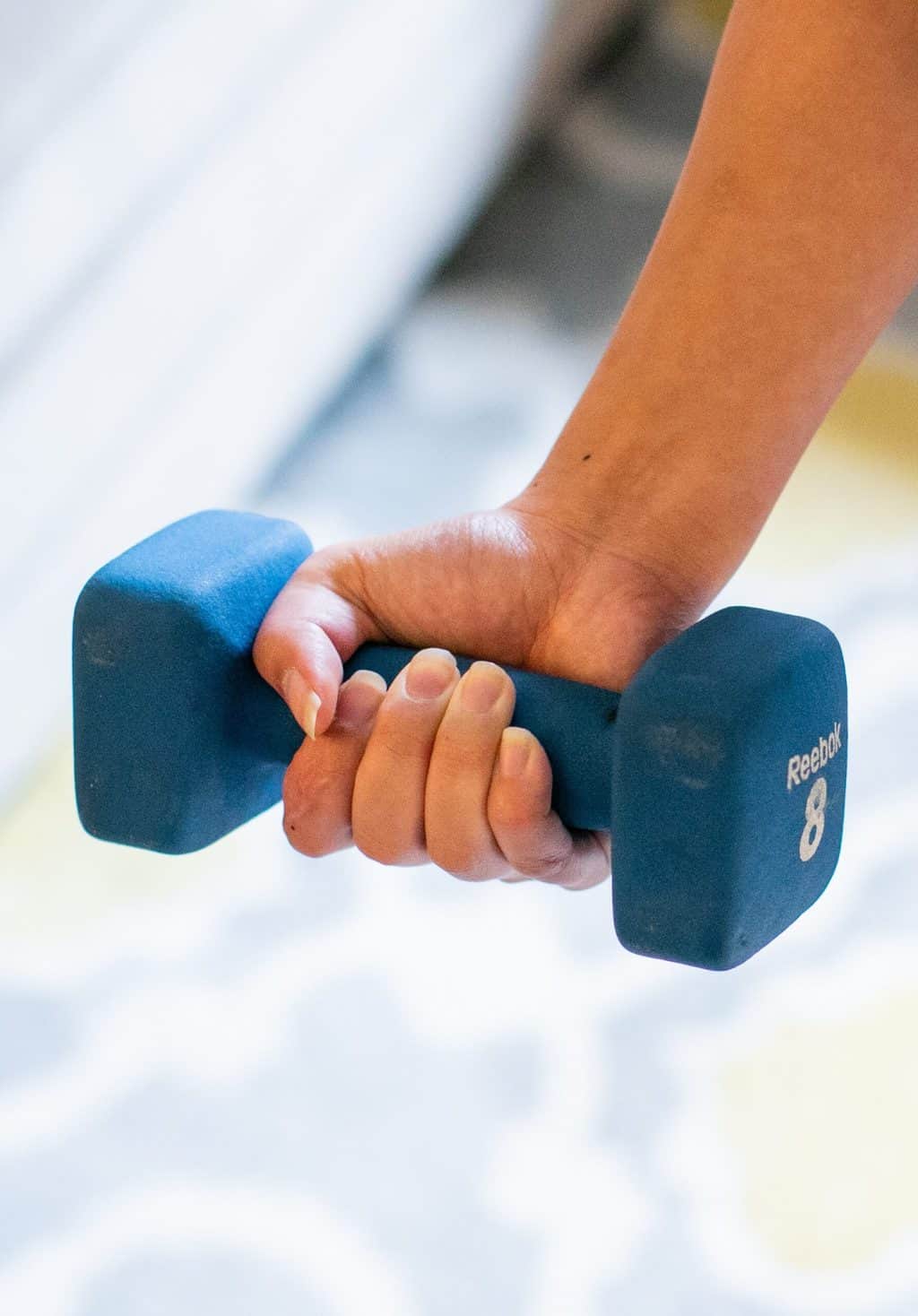 The coating not only helps you grip the dumbbell better; it also prevents the dumbbell from damaging the floor if it falls.
Do Neoprene Dumbbells Cause Cancer?
Over the years, some fitness enthusiasts have had concerns about whether neoprene dumbbells cause cancer. In truth, neoprene dumbbells don't cause cancer. Neoprene is a polymer of chloroprene, which is suspected of causing cancer.
Being a polymer, chloroprene is tightly locked up inside neoprene. Unbinding the two is quite impossible, and this is what makes neoprene an individual material. Thus, making it safe to use.
What is Better Cast Iron or Vinyl Weights?
Vinyl dumbbell weights are made from solid concrete and then covered with hard plastic. The hard plastic used to cover these dumbbell weights is a durable vinyl. The vinyl coating also gives the dumbbell an elegant and smooth look.
Both vinyl and cast iron weights are great. However, vinyl weights are excellent for beginners, as they allow you to practice proper form and technique. They also help in preventing functional injuries weight trainers may experience.
Cast Irons are an excellent option for intermediary and expert weight trainers. They are also heavier than the vinyl weights. This makes them sufficient dumbbells to use once you have the proper technique and form of a particular dumbbell exercise.
Conclusion
Remember, the dumbbell material you choose depends on your budget and fitness level. Make sure you consider these two factors before you take the next step. Also, make sure you have a proper diet to ensure that the dumbbell exercises you perform are effective.