Once you start training with kettlebells they can become addicting. Before you know it you could end up with ten or more kettlebells in your home. While this kettlebell addiction is ultimately good for you (and your fitness), it can lead to a small problem: storage.
Kettlebells can take up a lot of space, especially is you have a full set. If you're tired of stepping over kettlebells to get through your basement or garage it might be time to look for a better storage option.
​How to Store Your Kettlebells
There are a variety of different ways to store your kettlebells, starting with the most basic of methods: your floor. When you're just getting started and only have one or two, this is actually probably the best option. No need to dive into an expensive and large storage system when you're still trying to figure everything out.
However, once you find your groove, you'll probably need something more robust. Here is an overview of the various options available to you:
Single Rack: just as it sounds, this is a single rack storage system that can handle several kettlebells. Some versions are made to be extra wide, allowing for up to 6-8 kettlebells. This option is perfect for the beginner who has just started, but has already acquired several kettlebells.
​2 Tier Rack: anywhere from 40-80″ wide, this double layer rack can hold 3-6 kettlebells per layer. This is a great option for someone who is serious about their kettlebell workouts, and gives them plenty of room to grow and expand as they get more sophisticated.
3 Tier Rack: this is great when you have multiple family members using kettlebells or varying degrees and weights. For example, if you have both a male and female doing kettlebell workouts, chances are, you'll want different weights, and each need different kettlebells. A 3 tier rack system is good for several advanced users.
Keep in mind that the exact number of kettlebells you can store on a rack will depend greatly on how large of kettlebells you are storing. Larger and heavier kettlebells take up a lot more space than their smaller relatives, so keep this in mind. 
As your workouts (and strength) grows, you'll probably end up with more kettlebells. And – each of them will be larger. So, you'll end up needing more rack space at a faster rate.
Adjustable Kettlebells
​When you're really strapped for space in your home, an adjustable kettlebell is a great option. There is an adjustable kettlebell out there for everyone. You can find almost any weight range you're looking for in any design.
Any ​wide-ranging adjustable kettlebell can provide you with as many as eight different weight options in one compact package. It is the best option for apartments or for people who like to take fast workouts outside and want to store multiple kettlebells in their car.
However, adjustable kettlebells aren't as helpful for people who already own multiple kettlebells that need better storage. Don't worry, there are still options for those who don't want to part with their individual kettlebells.
​The Best Kettlebell Racks
A kettlebell rack is the classic solution for storing kettlebells. You can purchase a kettlebell rack anywhere kettlebells are sold. The most common versions of kettlebell racks typically have two or three shelves and stand about three feet tall.
However, there are many varieties of kettlebell racks designed to fit all kinds of spaces and numbers of kettlebells. Here are some of the best kettlebell racks out there.
Brand
Best Overall
Body-Solid GDKR50 Compact Kettlebell Rack
Best Minimalist
Soozier 4-Tier Kettlebell Storage Rack Tree
​Best Alternative Storage
Otto & Ben 45" Storage Folding Toy Box Chest
Product
Best Overall
Brand
Body-Solid GDKR50 Compact Kettlebell Rack
Product
Best Minimalist
Brand
Soozier 4-Tier Kettlebell Storage Rack Tree
Product
​Best Alternative Storage
Brand
Otto & Ben 45" Storage Folding Toy Box Chest
Product
Body-Solid GDKR50 Compact Kettlebell Rack
This rack is for the kettlebell user who is extremely devoted to their kettlebell training. It features three shelves, can withstand 1,100lbs of weight, and can hold up to 25 kettlebells. The Body Solid Kettle Bell Rack is a great choice if you have a real home gym, but not if you need to store just a few kettlebells.
Soozier 4-Tier Kettlebell Storage Rack Tree
This product is for the kettlebell minimalist. It holds just four kettlebells and is small enough to fit in almost any corner. It does require some simple assembly, but it can also be broken down easily if need be.
The downside is that the Soozier Kettlebell Storage Tree is not designed to hold larger kettlebells. The heaviest kettlebell it can hold is 20lbs on the bottom ring. So, if you like using larger weights this storage method is not for you.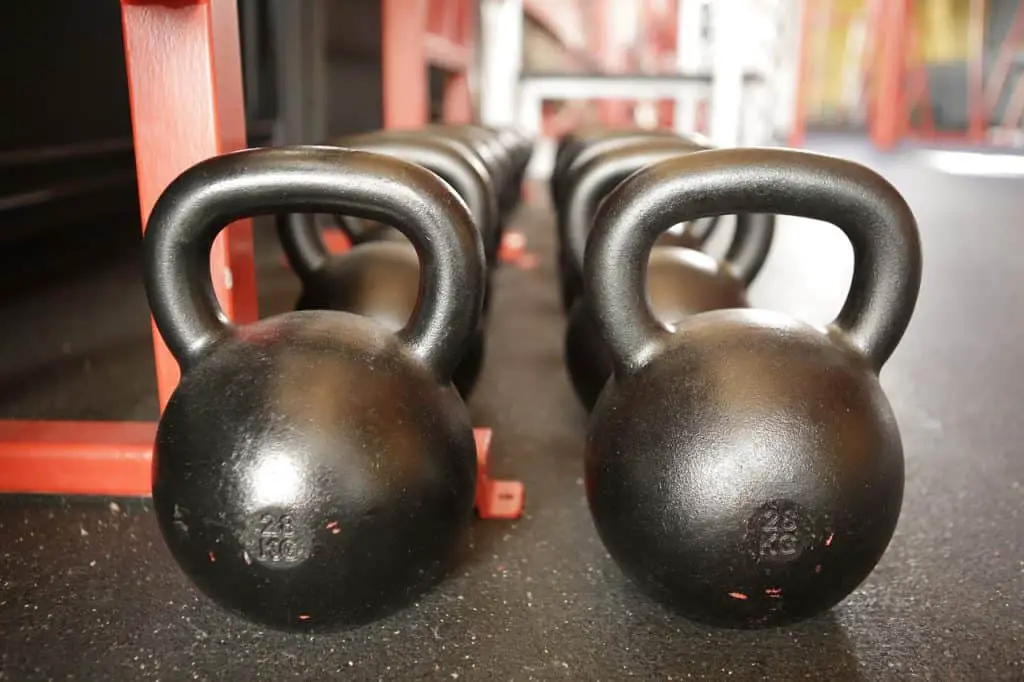 ​DIY Storage Racks
If spending money on a kettlebell storage rack seems off putting to you, there is always the option to build one yourself. You can find lots of tutorials on Pinterest or websites such as Instructables. Most DIY racks can be done with just plywood and nails, but there are a some more complex options that involve metal rods if you feel confident in your craftsman abilities.
Making your own kettlebell rack is a great choice because you can build it to fit your space exactly the way you want. However, any DIY project can be dangerous if done incorrectly, so make sure you have taken all the proper safety precautions before attempting this.
​Alternative Kettlebell Storage
While most kettlebell storage comes in the form of racks, this is not the only choice. Who says you can't use a storage unit meant for books or blankets for your kettlebells? If you want to store your kettlebells inside the house, you might want to look for something that fits in with your décor better than a weight rack.
You can use a Folding Storage Ottoman or even a storage ottoman to keep your kettlebells out of sight.  You can also pick up some decorative open front storage bins if you want to proudly display your equipment. Either option is a great for keeping your kettlebells inside without throwing off the look of your home.
The only caveat when picking a storage bench is to be sure that you choose one that sits flat on the ground so that the kettlebells don't break the bottom. This one from Amazon would look great in your living room or at the foot or your bed.
Otto & Ben 45" Storage Ottoman with SMART LIFT...
COMFORT FOAM PADDING: comfort foam padded top for added seating comfort while sturdy setup structure...
SMART LIFT TOP: Lid that swings open on either side, so you don't have to clear the top every time...
EASY SET UP & FOLD AWAY: designed to fold into a flat board and can be stored inside the lid. Super...
​Conclusion
Too many kettlebells in your house can take up a lot of space. Fortunately, there are plenty of options for storing your kettlebells in a space effective manner. One option is to look into getting an adjustable kettlebell instead of multiple individual kettlebells. You can also buy yourself a kettlebell rack, build your own kettlebell rack, or use a storage bench.
No matter what you choose you can find a solution for your kettlebell storage problem. You just need to get creative!