Waist trimmers aren't just for slimming and toning down your waistline. The best waist trimmer can also help promote better posture and gives support if you have a weak spine. That's why many people use waist trimmers not just for its weight loss benefits but also for support.
Our Top Waist Trimmer Reviews
Waist trimmers can help you enhance your abdominal tone, giving you the body shape you desire, and also reducing belly fat. Some waist trimmers also have extra features that make it confusing to pick the right one. That's why we've simplified it for you by compiling some of the top waist trimmers you can find on the market right now. 
Brand
Best Overall
Sports Research Sweet Sweat Premium Waist Trimmer
Best Cheap Pick
VENUZOR Waist Trainer
Product
Best Overall
Brand
Sports Research Sweet Sweat Premium Waist Trimmer
Product
Best Cheap Pick
Product
Best Overall Waist Trimmer: Sports Research Sweet Sweat Waist Trimmer
The Sports Research Sweet Sweat Premium Waist Trimmer is a fitness belt you designed to help you improve your performance, sweat more and burn more fat in your belly area. It measures 8 inches in width and 35 inches in length not counting it's flexibility so you have enough room for your waist. 
The design is simple with a distinct logo on the front braided in yellow (there are also other color variations). Black is always a great color on waist trimmers as it isn't prone to visibly show dirt and sweat. 
This Waist Trimmer consists of premium latex-free neoprene materials that help with retaining heat and enhancing the sweating experience burning belly fat more efficiently. The material also gives you irritation-free experience so you won't have to worry about getting skin irritations or rashes forming on your skin.
The interior area of the Sports Research Sweet Sweat Waist Trimmer features a unique lining that repels moisture and also secures the waist trimmer in place so it doesn't move around when you are working out. 
This waist trimmer also increases your performance in thermogenic activity. It raises your body temperature on the core area and increases sweating. Sweating significantly reduces the water weight in your belly area helping it look flatter. The Sweet Sweat workout enhancer sample that will also help you reduce your belly fat. 
You shouldn't wear this waist trimmer for more than two hours. However, you really don't need that much amount of time to notice the difference. Generally, after five minutes, you will feel the warmth around your waistline.
This is especially a great recommendation for new mothers who want to get their figure back after having a baby. This waist trimmer is well contoured to fit around your body perfectly. It feels comfortable when you put it on and it doesn't form any blisters. 
There's a velcro fastening system that lets you secure the trimmer at the front. So it will remain secured and fit snug, It also comes with a breathable carrying bag that comes in handy when you want to bring it around the gym or in other places. 
If there was a downside is that the velcro might wear out fast. You should also only use this only for two hours at most or you won't see this waist trimmer last you for more than a year. 
Overall, the Sports Research Sweet Sweat Premium Waist Trimmer is an excellent choice for the top waist trimmer. It's reliable and is comfortable when worn. 
Product Highlights
Contoured to fit around your waist
Made of latex-free Neoprene
Comes with Sweet Sweat gel to maximize workout
Sweet Sweat Waist Trimmer for Women and Men -...
MAKE YOUR WORKOUT WORK FOR YOU: Elevate your next cardio, circuit, or HIIT session with the Sweet...
SWEAT FASTER, SWEAT HARDER: Waist trimmer designed with Neo-Sweat Technology, an anti-slip,...
CONTOURS TO YOUR BODY SHAPE: Designed to accommodate all shapes and sizes, our durable,...
Best Waist Trimmer for the Money: TNT Pro Series Waist Trimmer
No products found.
If you're looking to buy a waist trimmer and save some money then the No products found. is the best option. It functions as a waist belt trimmer packed with some useful features. It's also a great waist trimmer that will give you lumbar support and help with toning your body. 
It also implements thermogenic technology to help you easily lose belly fat. It enhances sweating and thermogenesis in the stomach area and makes you burn calories faster. 
The design of the TNT Pro is simple and comes in a heavy black color. The ends of the waist trimmer are embroidered with either yellow or pink color and so is the logo. It's sturdy and feels like it will last a long time even with frequent use. 
You can easily clean it by simply wiping it with a damp cloth and you can conveniently use it again. So if you're short on time this might prove useful. However, you can also thoroughly clean it through handwash, just don't try to put it in a washing machine. 
Like all other waist trimmers mentioned above, this one also comes with 100% neoprene, a latex-free rubber that wicks away moisture. However, at 10 inches it has one of the widest measurements among waist trimmers. This is helpful for adding lumbar support and helping with posture issues and back alignment.
It comes with an adjustable velcro closure giving you a snug fit or loose fit depending on you. It's flexible and stretchable. It will fit most body size and provide you with a comfortable fit so you won't feed discomfort when exercising. 
The interior part of the TNT Pro consists of an anti-slip material that also prevents the buildup of odor-causing bacteria. 
Overall, this is a great product. However, we find that the velcro wears out faster than we hoped it would. You should expect this waist trimmer to last you for at least 6 months with proper care.
Product Highlights
Odor resistant
Large wide belt coverage
Ant-slip inner grid technology
No products found.
Best Cheap Waist Trimmer: VENUZOR Waist Trainer Belt
If you are looking for the top cheap trimmer then the VENUZOR waist trainer belt should be the first on the list. 
It consists of 100% latex-free neoprene. It's a comfortable and adjustable stretchy fabric. It feels durable and flexible so you won't feel discomfort when you wear it. It fits snug around the waist and accommodates the length of the waist. 
It's also easy to clean and doesn't irritate your skin. Only hand wash it and don't use bleach or machine wash it. You also should not iron or dry clean it so it will last you longer. 
The waist trimmer comes with a double-adjustment hook and loop so you will always have sizing accuracy and it will attach around your waist securely. The inside consists of mesh to allow for breathability and comfort around the waist.
The neoprene really helps the waist trimmer add flexibility when worn. It doesn't stab or jab compared to other waist trimmers. It's great to burn fat and calories more effectively when you are working out by making you sweat more imitating the heat you feel from sauna around the waist. 
The waist trimmer is wide enough to cover the whole stomach area and it stays in place no matter how rigorous the exercise is. It's also thick enough that it generates the necessary heat to make you sweat and burn fat. 
That being said, this waist trimmer is very stretchy in places in the areas where you want to burn fat the most. It also provides excellent support on your sides and back protecting you from injuries. 
So, if you have lower back issues, then this waist trimmer might help alleviate the pain to allow you to exercise without feeling any discomfort. It's also great for providing you with instant abdominal compression and lumbar support.
The slimming waist cincher doesn't dig into your skin so it won't feel uncomfortable or leave blisters on. It lays flat all the way and provides the right coverage. This is perfect for post-baby belly fat and love handles as it helps smoothen out and flatten the belly area. 
The only downside we find in this waist trimmer is that it may take 2 or more days for it to actually adjust to your waist. The first 2 days may feel tight or uncomfortable when you first wear it. Overall, it's a comfortable and effective waist trimmer that's great for women. 
Product Highlights
Excellent support with a double-adjustment hook and loop 
Breathable mesh backing
Soft and comfortable fabric
VENUZOR Waist Trainer Belt for Women - Waist...
►► WAIST TRAINER TRAINING TRIMMER BELT: Made of comfortable & adjustable & stretchy fabric,...
►► WEIGHT LOSS BELT: Our trimmer belt is made of Neoprene,polyester,which help the waist trimmer...
►► DESIGN OF TUMMY TRIMMER BELT: Wide enough to cover the stomach area and stay put during...
Best Zippered Waist Trimmer: GAODI Women Waist Trainer
The GAODI Women Waist Trainer is the best value you can get from a women's waist trimmer. It promotes better blood flow and increases body temperature. This waist trimmer also helps you produce three times more sweat from a regular workout, helping you burn more calories and achieve your ideal body figure.
It consists of top quality neoprene, easily cleaned with a simple wipe. It absorbs sweat effectively and quickly so it feels fresh and dry on the outside. While it has higher compression, it doesn't feel uncomfortable when you wear it.
The material is stretchable and fits snug on your body. It feels comfortable and flexible enough that it conforms to an hourglass-shaped figure. The waist trimmer also comes with a strong zipper middle open to make it easy to wear and take off. 
Not only does it burn fat effectively but it also provides support to your back and spine. It helps improve your posture and shape your body to look slimmer. 
It's also great for women by helping them with postpartum recovery. It reduces swelling, tightens skin, and relieves pain for you to have an easy transition on your uterus and shrink it down to normal size. 
The main downside of this product is that it runs a little big. Ordering half a size down will solve the problem. 
Product Highlights
Absorbs sweat quickly
Durable and easy to clean
Helps with postpartum recovery
GAODI Womens' Sauna Suit Workout Sweat Body Shaper
PREMIUM MATERIAL:Top quality neoprene,promote blood flow,increase body temperature,produce 3 times...
ABSORB SWEAT NEOPRENE:The hot vest absorbs sweat quickly to let you always dry and fresh outside,and...
UPGRADE ZIPPER DESIGN:Our sauna vest is equipped with strong zipper middle open,wear and take off...
Features to Consider
If you want to choose the right waist trimmer that's perfect for your needs, here are some things that might help you decide what's best for you:
Build Quality
Size
Comfort
Ease of Working Out
Build Quality
Most waist trimmers consist of neoprene for a good reason. The material is safe and can last for a long time. The top waist trimmers also include bonus features like non-slip inner lining. This helps keep them waterproof, odor-free, and easy to clean.
Make sure that you're buying a waist trimmer that is latex-free. This type of material helps to reduce skin irritations. Additionally, it helps with heat retention which allows you to sweat more.
When cleaning this material, it's best to gently wash it with warm soap and water. You can use your hand or a washcloth. Avoid putting the waist trimmer in the washing machine, because it could very easily rip and damage it.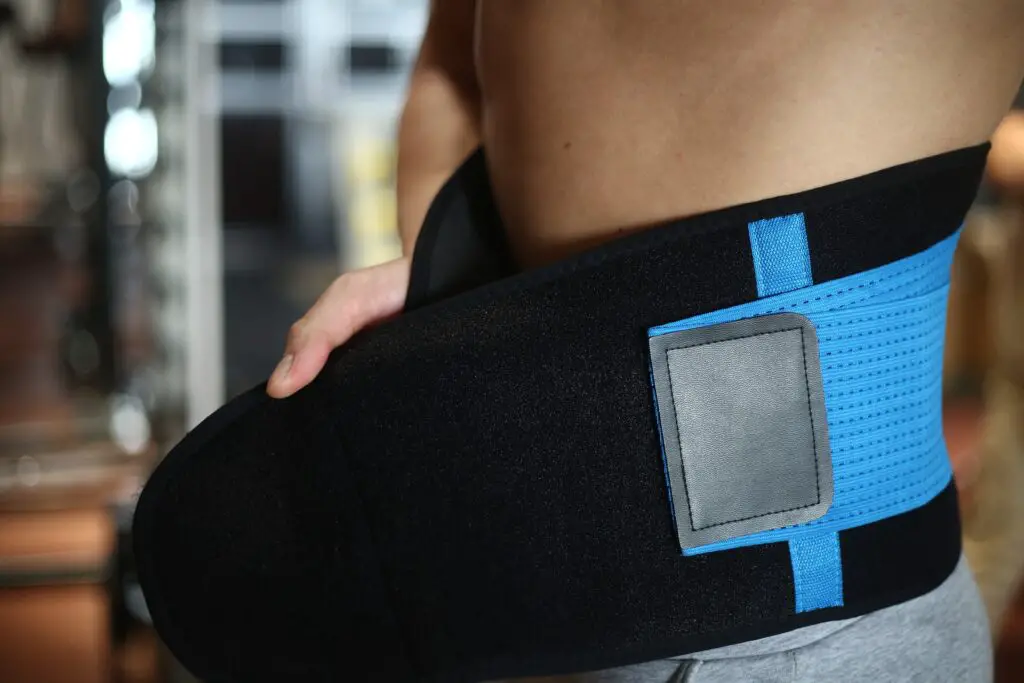 Size
The size of the waist trimmer should be able to accommodate your waist size. It should cover your entire stomach so you won't feel any discomfort and to fully get the benefits of the waist trimmer.
While there are one-size-fits-all trimmers, try to find products that sell multiple sizes. This way, the waist trimmer is better tailored for your specific body size. When you're determining the best size to get, be sure to look at sizing charts.
When you put it on, it should feel tight and snug. If it's loose, try adjusting the velcro or tightening mechanism so it feels slightly uncomfortable. It might sound odd to want to get it to this point; however, this is the best way to see the positive effects of the device!
Additionally, there should be a decent amount of back support if you've selected the proper size. You should still be able to move around, and if you find that you have trouble doing so, you might have the incorrect size.
Length and Width Variations
Getting a waist trimmer that's the correct length and width is the first step in yielding successful results.
If you have a short torso, look for a thinner belt. Your chest should not be covered by the belt.
If you have a longer torso, look for a wider belt that will fully cover your stomach.
Overall, it should not feel bulky when wearing it. If it does, the trimmer might be too wide for your body.
Comfort
Above, we mentioned that the waist trimmer should feel a tad bit uncomfortable. Remember, waist trimmers promote fat burning and proper posture. If you already had great posture or weren't looking to burn fat, you likely would not be wearing one of these! Because of that, it's natural for this to feel a little weird.
An excellent waist trimmer doesn't fall off easily and stays secured in place when you are working out. After you wear it a few times, it will start to feel a bit more normal.
Ease of Working Out
While you can wear waist trimmers around the house or while working at your desk, many people intentionally buy one to wear while exercising. Every brand creates its trimmers with a different amount of flexibility and stiffness in them, and it's important that you find one that works best for your preference.
Before purchasing one, think through the types of movements you'd typically be doing while wearing it. Here are a couple of examples:
Firm waist trimmer: Good for walking or weightlifting
Flexible waist trimmer: Good for HIIT workouts
Frequently Asked Questions
Do I Wear a Waist Trainer Over or Under My Shirt?
You can wear the belt either way – over or under your shirt. Some product manufacturers provide details on how their specific product should be worn, but you can still wear it how you feel most comfortable.
If you do wear it directly against your skin, be sure to wipe it with warm soap and water before and after each use. This will help reduce irritability on your skin.
What Size Do I Get?
Before buying a waist belt, use a flexible measuring tape and measure the smallest part of your waist. This is where you will wrap the belt around.
Additionally, be sure to read through the product details to see if it provides and advice for how to best select a size. Some belts can run small or big, so also check to see what the return policy is in case you need to exchange it for a different size.
Does it Only Work if You Exercise?
There are certain belts that are specifically designed to be worn while working out; however, many of them can also be used elsewhere. Belts that are more structured also focus on improving posture, and those can be worn while doing other activities.
Typically, to see the best results, it's recommended that you wear the trimmer while exercising (especially during workouts that you heavily sweat).
How Long (and How Often) Should I Wear a Waist Trimmer for?
Every waist trimmer is going to have different recommended time frames that you should wear it for. Some that cause you to sweat more are only suggested to wear for an hour or two at a time, while belts with more flex can be worn 8-10 hours per day.
It's okay to wear the waist belt every day, or during every workout. Try to create a consistent schedule that you can realistically stick to.
Conclusion
If you're looking to slim down then wearing a waist trimmer and working out at the same time will provide you with good results. Waist trimmers also help with correcting posture so as you slim down you're also maintaining a good posture. All that's left to do is to make sure you choose the waist trimmer that's right for you.