What are the best compact treadmills in the market? Every potential Compact treadmill buyer asks this question. For that reason, we have prepared the following guide on top compact treadmills to help you whenever you need one.
Our Top Compact Treadmills Reviews
Below is a list of carefully thought through, analyzed lists of the best compact treadmills in leading outlets globally. We have picked them based on key distinctive features, pros, and cons to help you make an informed purchase decision.
Brand
Best Overall
Dynamax Runningpad Folding Treadmill
Best for the Money
FASESH Foldable Electric Treadmill
Best Cheap Pick
FASESH 2-In-1 Treadmill
Product
Product Dimensions
51.5'' x 23.5'' x 6'' inches
Special Features
Low-Impact Aluminum Structure
Features 12 built-in workout programs
High-definition LED eye protection display
Best Overall
Brand
Dynamax Runningpad Folding Treadmill
Product
Special Features
Low-Impact Aluminum Structure
Best for the Money
Brand
FASESH Foldable Electric Treadmill
Product
Special Features
Features 12 built-in workout programs
Best Cheap Pick
Product
Product Dimensions
51.5'' x 23.5'' x 6'' inches
Special Features
High-definition LED eye protection display
Best Overall Compact Treadmill: Dynamax Runningpad Folding Treadmill
With this model, Dynamax has delivered a high-tech performance to a compact footprint. Dynamax RunningPad employs smart technology to give its users the ultimate fitness experience.
The patent system allows you to fold and reduce the size of the treadmill to less than 0.5m2. You can move it around and store it anywhere in your house with the integrated transport wheel, merely a fold, roll and store treadmill. 
The console feedback provides you with live feedback on your speed, distance, calories, and steps. It has an eco-efficient 1.0hp continuous motor size and a peak motor size of 1hp that allows you to make a simple stroll or a challenging sprint of up to 6mph. 
The 47 by 17 inches running track has a low impact fiberboard and a comfortable gel line deck to give maximum cushioning and help you support each of your strides.  
A wireless and adoptive remote-controlled system controls the running track and lets you customize your speed. You can increase your speed by moving closer to the front of the belt or reduce it by moving away from the belt.
Dynamax RunningPad has an aluminum alloy frame structure to maximize the capacity and endurance of the treadmill. The strong aluminum alloy frame structure ensures that the running track can support a maximum user weight of 243 pounds. 
The manufacturers have got you covered with a two-year warranty to guarantee you peace of mind with your new acquisition. You don't need to worry about how to assemble the product because it comes ready to use.
What We Like
Strong aluminum alloy frame that can support its maximum weight requirement
Patent folding system to minimize space usage
Comfortable low impact fiber running track to protect your joints
Smart technology with an adoptive remote-controlled system
 What We Do Not Like
Small motor size
Only 6.0 mph
Dynamax RunningPad - Black Compact Running Walking...
No assembly required – unfold, plug-in and go!
Foldable deck with patented folding technology with low impact fiberboard deck containing soft gel...
47" x 17" running area that covers less than 0. 5 m2 when folded
Best Compact Treadmill for Money: FASESH Foldable Electric Treadmill 
This FASESH Foldable Electric Treadmill is another compact treadmill masterpiece from Fasesh. It features twelve adjustable levels without restrictions and a slope adjustment design to help you improve your workout efficiency. You can manually adjust the training intensity to whatever level you need it. 
The folding treadmill has a shock absorption system with a relatively large 14.4" by 40.95" anti-slip running belt that mimics outdoor lawn texture. It has a noise reduction and shock absorption system that helps minimize the running impacts on your joint. 
A sturdy steel frame supports the structure and enables the running track to carry up to 300LBs weight. It is easy to fold and move around: a feature that makes it ideal for workout areas with little spaces. 
A 2.0 HP motor powers this treadmill to speed from 1km/h to 12 km/h. It has safety suck cups at the bottom, holds it firmly, and prevents it from rolling either backward or forward while you are training.  
The biggest advantage is in the folding electric treadmill's sophisticated features. It features 12 pre-programmed training plans that help you burn calories effectively. You can also trace your heart rate changes and adjust the intensity of your workout accordingly.
The touch button LCD screen on the console shows your workout time, speed, distance, and calories burned. In case of emergency, the in-built safety key will shut-off instantly to keep you safe. This machine has a transport wheel to help you move it to different places within your workout station.
What We Like
12 preset workout programs
Speed level of up to 12 km/h
Heart rate monitor and safety pin
Ideal for relatively larger users (up to 300 LBS) 
What We Don't Like 
Small motor size of 2.0 HP
Relatively smaller running belt
Folding Treadmill - Foldable Electric Treadmill...
♛【12 LEVELS CAN BE ADJUSTED】: the height can be adjusted without restrictions. The slope...
♛【FOLDING DESIG&EASY TO MOVE】: The folding design is suitable for homes, rooms, living rooms,...
♛【SHOCK ABSORPTION SYSTEM】: Large 14.04" x 40.95" anti-slip lawn texture running surface,...
Best Cheap Compact Treadmill: FASESH 2-In-1 Treadmill
The FASESH 2 in 1 treadmill gives you two work out options. You can fold the riser and use it as an underdeck treadmill with an average speed between 1 to 4 km/h; a perfect speed level for walking. On the other hand, you can raise the handrails and run between 1-8 km/h.
This compact treadmill is a simple fold, roll, and store type; no need to carry the weight around and move it on its transport wheels. That being said, you have a lot of space to run and walk on the 40″ by 16″ non-slip, diamond grain running track. The model features a seven-layer running belt that provides extra cushioning to protect your knees from the running impact. 
The Fasesh folding treadmill comes with a fold free installation design. You do not need to worry about assembling the machines when you buy it. Just unpack and begin your workout. The folded dimensions are 52″ by 27 by 21″ while the dimensions when unfolded are 48″ by 44″ by 27″. 
The treadmill's console features an LCD screen that keeps your work out data at a glance by showing your workout distance, time, speed, and calories burned. The machine uses a powerful 2.25 HP silent motor that allows you to reach your fitness goal even in a shared room without disturbing the roommates. The silence in the motor makes this treadmill a workout machine for both home and office use.
The running track is shock-absorbing, a mechanism that helps in noise reduction while ensuring your comfort and safety, whether you are on a simple walk or a high-intensity run. This product has a solid steel frame with a multi-layer shield design. It supports a weight of up to 220 LBS. The product itself weighs 55.5 LBS.
What We Like
 Strong, durable frame
Easily portable
Comfortable and large running track
Larger motor size
What We Don't Like
Only supports up to 220 LBS
No heart rate monitor and safety key
FASESH Folding Treadmill Under-Desk - Foldable...
♛【INNOVATIVE 2-IN-1 FOLDING TREADMILL】: Compared to ordinary treadmills, our 2-in-1 treadmill...
♛【POWERFUL 2.25HP QUIET MOTOR & SHOCK REDUCTION SYSTEM】: With a powerful and ultra-quiet...
♛【NON-SLIP RUNNING BELT & MULTIFUNCTIONAL LED DISPLAY】: The 7-layer non-slip texture running...
Best Compact Treadmill for Jogging: LZG Manual Walking Treadmill
LZG Manual Walking Treadmill is a perfect power saving machine that does not compromise performance. It gives you something only a few treadmills provide; a chance to exercise in your room without any electrical connectivity. The machine is portable and easy to fold, making it an ideal fit for home, room, and office with little extra space for workout.
The folding and compact design of this treadmill helps you save space. It is easy to store as it has a folding size of only 21.65 by 43.3 by 45.25 inches. It comes with built-in transport wheels that will help you move it from one point to another.
The treadmill has a concise and Clear LED screen with a touch button that helps you track your progress by displaying your run time, distance, speed, and calories burned. It comes with a built-in safety that ensures your safety by shutting-off in case of any emergency.
It features specially pre-programmed 12 different running settings. You can use this setting together with the heart rate sensor to choose the best plan for your needs. The 39.37 by 13.80 inches running belt has a shock absorption system that reduces the running impact on your joints.
The large anti-slip lawn texture running track makes exercising in this machine a comfortable experience. It minimizes the running impact on your knees.
After the running workouts, you can relax your legs on the sit-ups massage wheels. There is also an independent T-wisting machine that will help you strengthen the muscles on your lower back.
A strong and durable steel frame holds the whole structure when you are working out. It ensures that the machine is sturdy enough to support up to 350lbs in weight. For more stability at the base, the device has four suction cups to prevent it from slipping on the floor when you are running.
What We Like
You don't need an electric outlet
Comfortable running track
Twelve workout plans
What We Don't Like
Only suitable for running
LZG Compact Folding Manual Treadmill for Home,...
✔ 【Manual Treadmill】Note: This is Mechanical Treadmill not electric treadmill, no power....
✔ 【4 in 1 Treadmill】Mechanical Treadmill, Sit-ups pannel, T-wisting machine and Draw Rope, can...
✔ 【LED display】Display time / distance / speed / calories burned. with Mobile Phone Tablet...
Factors to Consider for The Best Compact Treadmill
As you go through our reviews on the best compact treadmill above, it is easy to note why they make it on the list. They are all on the budget-friendly side, and most notably, they all serve the primary purpose that the standard treadmill should.
So, to help you further, we have compiled a list of factors that you need to consider before you make that final purchase decision on any compact treadmill.
Size 
This is one of the quickest ways to rule out or pick a compact treadmill, especially when you consider that extra space in your room. If you intend to use a treadmill for home workouts, you would probably consider buying one with smaller dimensions. 
It would be best if you also considered your storage options. A treadmill that is not foldable will not be ideal for home use. It is not convenient either to purchase a machine that is so big even when folded. 
Quality
Feature and beauty of the treadmill may deceive. You do not need to buy a tread only because it has excellent features and an attractive outside appearance. Cheap treadmills might also, in the long run, turn to be expensive. 
Some of the treadmills in the market are not durable. They begin to shake and ultimately fall apart within a short period after you purchase them. Before you buy a treadmill, consider reading customer reviews on online platforms to see what users say about that particular model and manufacturer. 
Running Surface and Running Belt Lengths
The length of your treadmill should be reasonable relative to the compact size of your treadmill. A Larger treadmill belt will give more space to work out. You also need a larger running surface to accommodate a larger running room, especially when you have longer strides. 
As much as you need to keep fit and shade that extra calories, your comfort when doing that is of much importance. A good treadmill for running exercises should have a 54-inch running belt while a perfect walking treadmill requires a 52-inch belt.
The length of the track will depend on your strides. If you have relatively short strides, running a 55″ running track is enough. If your strides are long, the 60″ will be enough. 
Horsepower 
The capacity of the drive motor will determine the intensity and quality of your work out. Figure out the motor horsepower before you make that final decision. However, this will depend on your workout goals, your weight, and your budget.
If you plan to use your treadmill regularly, you need to consider a higher capacity motor, preferably 2.5 to o.0 CHP. Higher horsepowers are also ideal if you have a heavy body. You don't need such substantial horse powers when most of your workout schedule involves light runs and walks. 
Warranty
One sure way to figure out the quality of a treadmill is by looking at the manufacturer's warranty. Always go for a product with more significant assurances. It is an indication that even the manufacturer is confident that its treadmills are long-lasting.
When buying a treadmill, consider those with at least a ten years warranty on the frames and motors, five years on electronics, and two years on parts and labor.
Delivery and Assembly
The next big question should be how you will get the treadmill into your workout space. Consider how you will transport the machine from the store, or the suppliers will deliver it to your doorstep. Also, consider the risks and costs involved. 
Some treadmills will require assembly before you begin to use them. It will save you a lot of hassle when you buy pre-assembled machines. Or, if you don't mind doing it yourself or hiring an expert, then you should go for ones that you will assemble on delivery.
Maximum Weight Rating
The maximum weight rating of the treadmill you intend to buy will depend on your weight. The weight capacity will determine its sturdiness. If you consider yourself a larger person, you need to purchase a treadmill to accommodate that extra weight. 
To find a perfect treadmill for your weight, check on the maximum recommended user weight rating and then deduct 50 pounds to get a real number.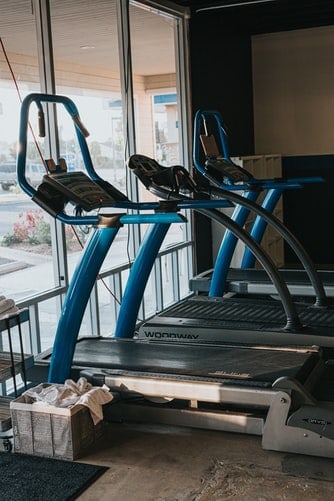 If you buy a treadmill that cannot support your weight, then your workout will not be effective, and the treadmill will not last. The treadmill should not shake when you are running or walking on the track.
Speed 
The maximum speed will not be an issue if you plan on walking. However, if you plan to run, you should get a treadmill that goes up to 10 miles per hour. 
Inline 
A treadmill with a 10 % incline and above is recommendable. With such percentages, you can increase and decrease the intensity of your workout. On the other hand, anything moderately below 10% should be accommodative if you are a walker.
A treadmill with a decline feature is as good because it will give you the experience of outdoor running conditions.
You can find steeper incline when you have additional features like iFit. With these Apps, you experience extra rise and fall in the landscape, mimicking the ones chattered on your google maps.
Cost
Budgeting should form the base of your best compact treadmill search. You need to explore every available treadmill option to see if it can accommodate your financial plan. There are several treadmills in the market. However, if you do not make the correct choice, cheap might become expensive.
Search for various features that match your price range and make the best pick for yourself. The prices will also differ from the brands and the store that is selling you the product.
Some manufactures will have the best compact treadmills with high-end features at lower prices, but some will overprice their treadmills. The same applies to the selling platforms and stores too. 
Conclusion 
There are several options for the best compact treadmills, and everyone wants to sell more. The competition has brought war on price, features, and brands. If you are not careful, your treadmill could disappoint. We have given you the guide above to take help to avoid such hassle.