Your knees are pretty easily prone to injury when working out, especially when it comes to crossfit. To help protect this knee joint, consider grabbing a pair of knee sleeves that can also help increase stability while working out. We have selected four of what we consider the best knee sleeves for Crossfit that are available for you to purchase, identified by a few different categories. 
Our Best Knee Sleeves for Crossfit Reviews
When it comes to selecting the best knee sleeves for many Crossfit athletes, make your selection between our top picks based on your needs, budget, and overall impressions. When deciding on what size to purchase, be sure to check the sizing chart for the best knee sleeves – different manufacturers may have very different size choices.
Brand
Best Overall
Bear KompleX Compression Knee Sleeves
Best for the Money
Rehband 7mm Knee Sleeve
Best Cheap Pick
Knee Compression Sleeves from Crucial Compression
Product
Material
Nylon, Rubber, Spandex with Silicone Grip
Best Overall
Brand
Bear KompleX Compression Knee Sleeves
Product
Best for the Money
Product
Best Cheap Pick
Brand
Knee Compression Sleeves from Crucial Compression
Product
Material
Nylon, Rubber, Spandex with Silicone Grip
Best Overall Knee Sleeves for Crossfit: Bear KompleX Knee Sleeves
To say that we are impressed with the Bear KompleX Knee Sleeves would be an understatement. The build quality of these good knee sleeves is excellent and they last for a very long time before breaking down, helping you take your training to the next level.
Available in sizes ranging from small to XXL, you are also able to select between two thickness options, 5mm and 7mm.
Although a difference of two millimeters does not sound like much, it can come into play depending on the size of your legs, the amount of strength your legs have, and the amount of mobility you require. 
In general, we recommend that when buying larger sizes you look at the 7mm knee sleeves in order to get enough stability out of them. On the other hand, if you need a higher amount of mobility, 5mm may be the way to go even if you are ordering a larger size. Whichever thickness you decide on, the Bear KompleX knee sleeves provide excellent features for heavy lifting workouts.
The materials used in this good knee sleeve is infused with bamboo charcoal fiber that provides a softer and more comfortable feeling than full rubber. This softness gives a feeling of additional flexibility while providing excellent features.
This pair of heavy duty knee sleeves is available in a large assortment of colors where you can match any workout ensemble or de-emphasize that you are wearing protective equipment. Some of the color options are also reversible, giving you choices that help reflect your day-to-day mood and style.
Developed for athletes by athletes, Bear KompleX is the official hand grip sponsor of the CrossFit Games.
Highlights
Size Range: S – XL
Material: Neoprene
True to Size: Yes
Returnable: Not stated
Warranty: Not stated
Sold in Pairs or Singles: Pairs
Multiple Colors Available: Yes
Best Knee Sleeve for Crossfit for the Money: Rehband 7mm Knee Sleeve
The Rehband 7mm Knee Sleeve – Model 7051 is one of the classic knee sleeves in use by everyone from weightlifters to gymnasts. This European company has been around since the 1950s, providing knee and other joint support products in close collaboration with many athletes.
Many Crossfit athletes use knee sleeves like these because they bridge the gap between medical science and sports in order to provide the best products for sporting professionals and amateurs alike.
The highlight of Rehband's knee sleeve is the unique, patented knee support pattern construction. The three panel design has a seam starting from the bottom of the knee in the front wraps that around the back, helping with specific flexibility anchored around the natural movements of the human knee.
It can also help increase muscle control, focusing heat in exactly the right places.
Similar to the high-quality Bear Komplex Sleeves or the Nordic Lifting Knee Sleeves designed for Crossfit, the Rehband Sleeve 7051 is made out of 7mm neoprene with a pique top layer. This is an excellent thickness but might be a little stiff for younger athletes and those who need a higher level of flexibility.
Athletes competing in sports like weight lifting, where a higher level of features is needed, will appreciate how well this thickness works. These heavy-duty knee wraps work best if you feel like the Nordic Lifting Knee Sleeves are too restricting.
Rehband has partnered with the International Powerlifting Federation (IPF) through 2023. This particular sleeve is IPF & IWF (International Weightlifting Federation) Legal for Raw and Open Competition. 
This high-quality sleeve designed for Crossfit has a medical classification, and as such is sold as a single knee sleeve. Be sure to consider this when making your purchase.
Highlights
Size Range: XS – L
Material: Neoprene
True to Size: Yes
Returnable: Not stated
Warranty: Not stated
Sold in Pairs or Singles: Singles
Multiple Colors Available: No
Best Cheap Knee Sleeves for Crossfit: Knee Sleeves from Crucial Compression
Sometimes a light amount of warmth, or even just a bit of protection from the ground or weights, is all that is needed from a knee sleeve. In those cases, in order maintain the knee's natural flexibility, go for knee sleeves like these Knee Sleeves from Crucial Compression".
Instead of thick neoprene that you will often find in higher priced models, Crucial Knee Sleeves provide comfortable support with a mixture of premium quality nylon, rubber, and Spandex with silicone grip added.
Like the knee sleeves from Iron Bull, these materials have the added benefit of making the sleeves breathable, whereas your knee will normally be a sweaty mess after taking off neoprene knee sleeves.
Because of the lighter materials, these sleeves are excellent for more aerobic Crossfit exercises like endurance training, HIIT (High Intensity Interval Training), and some specific WoDs. They still provide a good amount of compression, but not as much support as thicker neoprene sleeves.
The construction of these knee sleeves is very good, with double stitching and materials that won't break down very quickly. The ergonomic shape makes them extremely comfortable by preventing material from bunching up behind the knee as they stay in place.
Much like many knee sleeves from Iron Bull, these wraps contain a unique double silicone grip on the insides of the sleeves that helps keep them from sliding or rolling down even when in the toughest workouts and they stay in place. In effect, you can keep your knees in place to prevent knee joint problems. 
There is a very good sizing chart located in the images of the product, be sure to measure your thigh circumference in order to judge the most appropriate size knee sleeve for you.
Highlights
Size Range: XS – XXXL
Material: Nylon, Rubber, Spandex with Silicone Grip
True to Size: Yes
Returnable: Yes
Warranty: 100% money back guarantee
Sold in Pairs or Singles: Pairs
Multiple Colors Available: Yes
Best Knee Sleeves for Crossfit Injuries: Pain Relief and Sports Injury Recovery
Coming back from a knee injury is difficult, and in those cases, you will probably need additional lateral support that a completely fabric-based knee sleeve will not be able to give you. In Crossfit, the exercises and movements that we go through are often not possible with hinged metal knee braces. 
TechWare Pro's Knee Sleeve combines extra support through the sides and front of the sleeve without adding too much bulk that could get in the way. These are the best CrossFit knee sleeves for those having a hard time protecting the knee joint from too much pressure.
Along the side of the knee sleeve, sewn into the fabric, are flexible spring stabilizer bars. These add a touch of lateral stability without adding too much weight, while also allowing for the knee to move naturally.
In the front of the Techware Pro, they have added a patella pad made out of gel to offer patella compression, which is somehow similar to the muscle recovery features of the Nordic Lifting Knee Sleeves. 
Heavy hinges will only allow for front to back movements. When recovering from an injury, always consult a medical professional when deciding on how much stabilization your knee requires.
In the front of the Techware Pro, they have added a patella pad made out of gel to offer patella compression. This can help tremendously with problems like patellar tendonitis, a repetitive injury that is very common with Crossfit athletes.
The standard brace type device that is used to help with this condition is a patella strap, but using both a strap and a knee support at the same time is problematic.
Like the knee sleeves from Iron Bull, the overall design of this sleeve is very well thought out. There are breathable panels, anti-slip silicone strips on the inside to prevent the knee sleeve from moving around on your leg, and it is made from a 4-way stretch fabric.
Highlights
Size Range: S – XXL
Material: Nylon, spandex and latex
True to Size: Yes
Returnable: Yes
Warranty: Yes
Sold in Pairs or Singles: Singles
Multiple Colors Available: No
Reasons to Use Knee Sleeves for Crossfit
As the joints that are inflicted with the most pressure and use in our body, our knees can often break down due to overuse. When we keep the knee warm and compressed, the likelihood of an injury is lowered.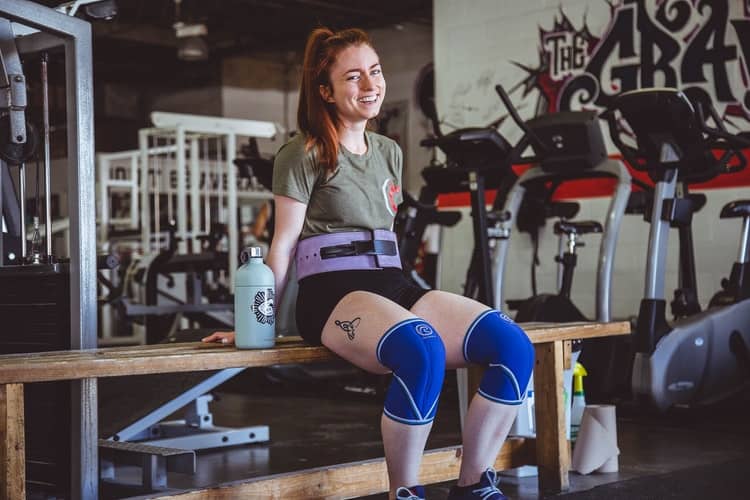 Heat
Knees perform better when they are warmed up. Heat helps the joints self-lubricate, allowing for a fuller range of motion in your movements. The insulating properties the materials used to manufacture knee sleeves help keep the knees warm before, during, and/or after exercise. Post-workout heat also aids in the recovery process.
Heat also helps improve circulation throughout the surrounding muscles, keeping them primed for the pushing and pulling actions that keep the knees moving during Crossfit workouts.
Compression
This improves blood flow and can help reduce pain in muscles and joints. It also reduces swelling, which reduced flexibility and can cause the knee to stiffen up. Less swelling and better blood flow will help your joints and muscles recover faster after a workout.
Another benefit in the Crossfit world is that when you are lifting weights, this causes the knee to slightly bulge outward. Good compression knee sleeves can help reduce that radiating pressure, stabilizing the joint to help prevent injury.
Support
The overall concept of a knee sleeve is to provide a tight, warm surrounding for your knee that helps heat the joint, improve circulation, and often can reduce pain. The added benefit of the slight amount of support is a bonus, but do not rely on knee sleeves to completely support unstable knees.
Whether you're recovering from a CrossFit injury or you want to protect your knees from further injury, the knee sleeves promote increased joint stability and better muscle coordination. With this added support, you can keep your knees stable and become confident in doing heavier lifts.
In cases where your knee is healing from a major injury, or if your have chronic unstable knee problems, your doctor may recommend knee sleeves instead. It is very important that you do not confuse the two since they provide different primary methods of knee protection.
A brace protects the ligaments from overexertion and tearing, while the support from a sleeve does not.
What to Look For in the Best Crossfit Knee Sleeves
Because of the inter-disciplinary nature of Crossfit, you need to look for knee sleeves that have excellent flexibility while still providing support. Knee sleeves meant for running are normally thin and very light, primarily intended as just a warming device. Weightlifting sleeves on the other hand are thick and limit your range of motion and movements tremendously.
What we are looking for is a knee sleeve that balances these two extremes.
Material
Different panels made out of breathable fabric along with added support features make these types of sleeves great for most athletes who are looking for more ergonomic and comfortable options.
Neoprene Sleeves
The most common material for knee sleeves is neoprene. This man-made material is derived from rubber or other products, producing a slick surface that nylon is normally bonded to in order to make it more comfortable to wear.
The properties of this material make it a good all-around choice for knee sleeves. It is durable, flexible, holds its shape, retains heat, comes in different thicknesses, and can be easily bonded with other pieces in manufacturing. It is also fairly inexpensive.
Nylon and Spandex Sleeves
Thinner materials like nylon and spandex can be used in knee sleeves, but often the sleeves made from these materials do not provide much support, and warmth. A combination of materials can make an excellent knee sleeve.
Thickness
Knee sleeves come in 3mm, 5mm, and 7mm neoprene thickness. While each thickness has a corresponding level of activity, these three types have overlapping benefits for your CrossFit and heavy lifting needs. 
3mm Sleeves
These knee sleeves can keep your knees warm, although they provide the least amount of support. Still, 3mm sleeves are perfect for endurance activities as they won't restrict a range of motion and movements.
5mm Sleeves
CrossFit athletes do different kinds of activities, so it's important that the thickness provides support without restricting agility and speed.
7mm Sleeves
These knee sleeves are more appropriate for heavy lifting. These sleeves provide maximum support to stabilize the knees and protect you from knee pain.
You can opt for 3mm sleeves if you're doing low-stress activities. Meanwhile, it would be better for CrossFit athletes to have both 5mm and 7mm knee sleeves. In this way, you can change the thickness depending on the intensity of your training.
Stiffness
Stiffer knee sleeves are more beneficial for heavy lifting because they feel tight and don't bend easily. However, you'll still need enough flexibility for agility movements. You can go for light and flexible material if you want to wear sleeves all day to keep your knees protected.
Durability
For Crossfit athletes who are in the gym all the time, durability should be an important factor when looking at knee sleeves.
A well made sleeve for Crossfit should last at least a year or more under heavy use.
If you find that you are replacing your equipment more often than that, it will probably save you money over the long term if you buy a more expensive set of knee sleeves that will last longer.
Competition Approval
For professional or amateur Crossfit competitors, another thing to keep in mind is whether or not your particular set of knee sleeves is allowed to be worn in competition. The official 2020 Crossfit Games Rulebook states that "Subject to CrossFit, Inc.'s prior approval, weight belts, non-tacky gloves, hand tape joint sleeves, and common fitness wear may be allowed during competition." 
Other competitions may have a different set of rules, so be sure to check them beforehand.
Knee Sleeves for CrossFit Athletes FAQs 
Before we end, let's learn a bit more about our knees and knee sleeves with these frequently asked questions. 
Are CrossFit Knee Sleeves Good for Squatting?
Even knee wraps for CrossFit athletes are perfect for squatting because the straps can support and help your knee joints bounce back from a deep squat. Likewise, the knee sleeves keep the knees warm, and with this additional compression, you can save yourself from knee pain.
Are CrossFit Knee Supports Suitable for Weight Lifting? 
Most knee wraps use neoprene as the main material, which provides comfortable yet stiff support to hold the knees in place. Hence, you can use them like weight lifting knee sleeves as long as the material lets you do a range of movements.
Why Do My Knees Hurt After CrossFit?
Among the common reasons why you feel knee joint pain are bad lifting form, poor mobility, and pronated feet. Repeated bending can irritate the kneecap joints and overstress the tendons. This is why it's essential to use neoprene knee sleeves to support and keep your knees warm to lessen pain.
Conclusion
Knee sleeves can be an important part of a Crossfit athlete's daily workout routine, so it is important to find the best one that meets your needs. Figure out how much support you need before shopping, and always be sure to size the knee sleeves correctly.