Do you have a small work out space? Well, the best folding exercise bike is what you need. While they are as effective as outdoor bikes, they take up little space in your house. After your training session, you only need to fold the bike and keep it in a corner for your next exercise.
Our Top Folding Exercise Bikes Reviews
Picking the best folding bike from a store may be tricky. There are specific features that only suit particular people. Without the required specification and knowledge, you could end up wasting your time and money. For this reason, we have gone the extra mile to compile the buying guide below to help you out.
Brand
Best Overall
Stamina Wonder Exercise Bike
Best for the Money
Viavito Onyx Folding Exercise Bike
Best Cheap Pick
Ultrasport F-Bike 200B without backrest
Product
Special Features
Multi-function workout monitor
8 levels of magnetic resistance
Collapsible home trainer bike
Best Overall
Brand
Stamina Wonder Exercise Bike
Product
Special Features
Multi-function workout monitor
Best for the Money
Brand
Viavito Onyx Folding Exercise Bike
Product
Special Features
8 levels of magnetic resistance
Best Cheap Pick
Brand
Ultrasport F-Bike 200B without backrest
Product
Special Features
Collapsible home trainer bike
Best Overall Folding Exercise Bike: Stamina Wonder Exercise Bike
The Stamina Wonder exercise bike is a two in one machine that is unique in structure and functionality. It has a pair of wonder arms to give you optional resistance with soft padded hand grips. 
These grips go attached to elastic bands that employ the pulley system mechanism. With this machine, you get to work out on both your upper and lower body with the variety of "the wonder arm angles."
This easy to use exercise machine gives you over 30 exercise options. With arm angles, you have more opportunities to explore by just changing the arm position.
The recommended user height on the Wonder Exercise Bike ranges from 4'9" to 6'4," and the machine can support a weight of up to 250 lbs. When unfolded, it measures 52.5" (Height) by 29.5" (Width) by 48" (Length). The structure easily folds for storage.
When you do not feel like doing resistance exercises, you can detach the arms and use it as a fully-featured exercise bike. It comes with a wide cushioned seat with padded backrest and handles bars to guarantee you optimal comfort during workout.
The quiet and smooth peddling resistance has an adjustable magnetic tension button to help your alternate between the several intensity levels. You can monitor your speed, workout time, distance covered, and calories burned from the device's multi-functional monitor display.
This product also comes with two online access training videos that are available on demand. Certified personal trainers will motivate and guide you towards home-based training goals in the video guides. 
What We Like
Two in one exercise bike
30 exercise options to give you a more challenging workout
Training videos to keep you motivated
Supports up to 250 lbs
What We Do Not Like 
Occupies a large space because of the arms
Stamina Wonder Exercise Bike with Upper Body...
COMPACT CARDIO FITNESS BIKE - The Stamina Wonder Exercise Bike is a compact exercise bike that...
BIKE WITH ARM WORKOUT - This fitness bike comes with powerful, strength training Wonder Arms with...
DYNAMIC RESISTANCE LEVELS - This foldable workout bike has an easy-to-reach tension dial for...
Best Folding Exercise Bike for Money: Viavito Onyx Folding Exercise Bike 
When you need beauty and sophistication in one exercise bike, this black Viavito Onyx machine gives you both. The product has got a strong and durable 1.2 kg cast iron flywheel that gives you eight magnetic resistance levels. The device is so silent, someone will not even notice you exercising.
You can track your workout progress on the 2 AA battery powered single console LCD. It records and displays your speed, distance, time, and calories burned during the workout. Moreover, the hand pulse sensor on the handle pulse rate, which is then displayed on the console screen.
To guarantee your comfort, the Viavito Onyx bike has an adjustable 28cm wide padded saddle. Depending on your height, you can adjust this PVC seat to your most comfortable workout level and posture; the minimum size is 81cm while the maximum height is 91cm.
The bike is ideal for small spaces workout since it is easily foldable to reduce the storage size. Its dimensions are 81cm L by 42cm W by 107cm H when unfolded and reduce to 33cm by 42cm by 136cm when folded. It only weighs 13.9kg and is easy to move around. 
Finally, this bike consists of a quality steel frame that can support up to 100 Kgs in weight. Once delivered, you can assemble it by yourself. If you're having a hard time, you can use the assembly tutorials on the company website. 
What We Like 
Silent fluid motion flywheel
Eight magnetic resistance levels
The company has online assembly videos on this product.
Light, compact design
Quality steel structure 
What We Do Not Like 
Supports only 100kg (220lbs.)
Only suitable for tall users
Viavito Onyx Folding Exercise Bike - Black
1.2 kg (2.6 lbs) cast iron flywheel; Eight levels of friction-free silent magnetic resistance
Single LCD console; Console is powered by 2 AA batteries (included)
Time, speed, distance, calories, pulse and scan feedback; Hand pulse sensors
Best Cheap Folding Exercise Bike: Ultrasport F-Bike 200B without backrest
If you are looking for simplicity in an indoor bike, then look no further. The Ultrasport F-Bike 200B is a collapsible home stationary trainer that is easy to set up. It only measures 81 by 43 by 113 (L/W/H) and weighs only 43.3 lbs. When unfolded and 30 cm by 142 when folded.
It is an ideal option for small workout space because of its folding mechanism and curved structure. You can fit it into that small extra space after training. With a range of colors to pick ( pink, yellow, green, etc.), you can never miss equipment to fit into your home theme.
The Ultrasport masterpiece has eight levels of resistance. The different intensity levels will strengthen your cardiovascular system, endurance, circulation, and build your muscle strength. To help you keep track of your progress, it comes with a modern battery LCD that shows your speed, time, distance, pulse rate, and calories burned.
This equipment is an improvement from the Ultrasport F-Bike 150 without backrest. The inclusion of a cushioned seat and a padded backrest takes care of your comfort. The model ensures your safety with anti-slip pedals to ensure that your feet do not trip off during work out. 
The equipment has a broad base with anti-slip firm holders that ensure its stability when you are working out. 
The saddle is adjustable to accommodate users with varying heights. The bike structure consist of 80% metal and 20% plastic to make it relatively light and portable yet still firm and strong to support heavy users. It supports a weight of up to 100 kg.
The product from Ultrasport ranks highly, as evident from the 7660 five-star ratings on the Amazon.
What We Like   
Comfortable cushioned seats
Broad base to provide stability
Anti-slip pedals
Adjustable pedals
What We Do Not Like
The machine might not be ideal for relatively short users.
Best Folding Exercise Bike for Design: Tecnovita Folding Magnetic Exercise bike 
With the Tecnovita Folding Magnetic Exercise bike, you can reap maximum fitness results at the comfort of your home or office. The device is easy and convenient to use with height and handle knobs to help you find a suitable and comfortable workout posture.
The white well-decorated device has a high-quality steel structure that is super strong and durable. Its frame can comfortably support up to 90 kgs of weight. Its dimensions are 117 cm x 68 cm x 39 cm when unfolded and reduce to only 130 cm x 28 cm x 39 cm when folded.
The compatibility, together with the weight, make it a piece of ideal equipment to use in small workout spaces. It comes with transportation wheels to help you move it around before and after the workout.
The machine lets you decide how hard you want to train. You can manually adjust your workout intensity within the eight regulations level, depending on your training needs. 
Every work out session is silent and smooth thanks to the dual pedaling system, the magnetic braking system, and the 8kg flywheel. The comprehensive monitor displays your work out speed, distance, time, and calories burned during the training session.
What We Like 
Compact and foldable design
Up to eight levels of resistance
Beautiful and attractive color
Silent and smooth work out
What We Do Not Like
Only supports 90kg in weight
No pulse rate monitor
Tecnovita by BH OPEN&GO YF90. Flywheel 18 lbs. Get...
Keep motivating and challenging yourself with the home bicycle´s easy start monitor measuring...
Advance your cardio training by choosing between 8 accurate load regulation points (manual) with...
Don´t disturb your neighbours! the inertial flywheel weight equivalent to 18 lbs. makes for a...
What to Consider Before You Buy a Folding Exercise Bike
The final decision to buy a folding exercise bike goes beyond just having enough money to make the purchase. The factors below will help you the right decision the next time you visit a store for a workout bike.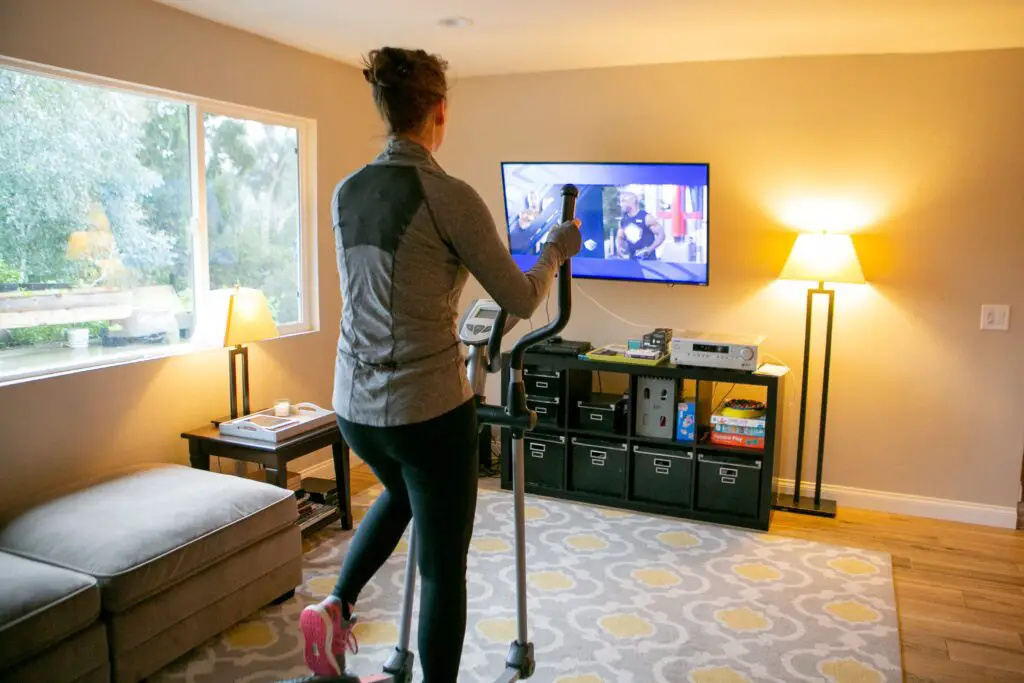 Sturdiness and Durability
It would be best if you got a folding bike that is sturdy enough to bear your body weight without any problems. Folding bikes in the market can carry as low as 100kg to as much as 180kg. If you load your bike with excess weight, it might begin to wobble and eventually stop working.
Your exercise bike should also be tough enough to withstand the test of time. With daily workout programs, you need a machine that will bear the pressure for a long time. This way, you will get value for your money.
The typical industry assumption is that the bigger the folding exercise bike, the stronger it is and vice versa. The material used to build your bike frame is another factor that will determine how strong your equipment. A steel frame will be durable and sturdy than alloy or plastic frames.
Cost
The price of an exercise bike should play a critical role in influencing your decision. Try to figure out a price range that you can afford and compare the available options in different stores. You take your time and check from various outlets what is offered in terms of features and product brands.
Some stores have lower prices than others. Similarly, some brands tend to sell their products at lower prices than others. With that said, do not buy a folding bike just because it is the cheapest in the outlets. 
Comfort
Who said that exercises should not be fun and comfortable? The posture you take when exercising may, in the long run, determine the length of your workout sessions.
Your bike should have a comfortable seat, handlebars, pedals, and backrest. The cycle should also be the best fit for your height and weight to help you maintain a correct posture when working out. 
If you are a somewhat taller person, you should go for larger bikes with adjustable saddlebacks. Having the correct posture will help you avoid back pains and other related injuries. 
Setting Up
Most people will choose folding bikes over other types because they save a lot of time that would, however, be used in assembly. Working out should be as simple as unfolding, climb, and ride.
A reasonably easy bike to assemble would be ideal for home gyms, especially if you are a user that needs to clear space every time you are done with your fitness training.
Also, if you are not that experienced with assembling exercise bikes, it would be fair to buy one that has most of the assembly already done for you.
Fitness Level
Another factor that will determine your purchase decision will be how fit you are. Some folding bikes need higher skill sets and abilities than others. If you are unfit, you could choose low impact bikes. However, when you feel that you are at a higher fitness level, you could buy high-intensity bikes.
Your age and weight will also determine your fitness levels. Older people tend to have health and mobility issues. It would be fair if they do less intensive training.
Fitness Plans
People have different plans when it comes to fitness. Some just like light exercise to shake off the calories, while some people need high-intensity workouts to build muscles or lose weight. If you want to have rigorous training sessions, then you need a sturdier and bigger bike.
When you need a lighter exercise, then a folding bike with few resistance levels will be enough for your needs.
Resistance Types And Levels
The resistance levels in a folding exercise bike determine the intensity of workouts you can derive from them. If you intend to have a high-intensity training, buy a bike with more levels of resistance. However, if you want a light workout, the levels of resistance do not matter.
Innovation
Features like additional apps, training videos, and phone holders spice up your sessions.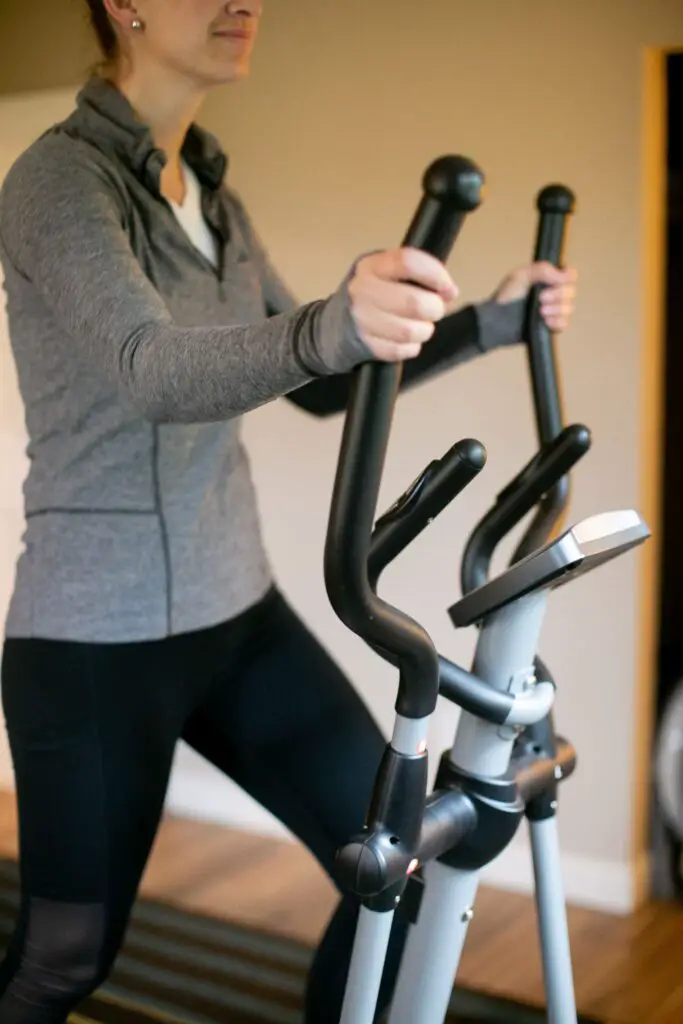 The improvements and innovations that come with the modern folding bikes have made them more sophisticated and attractive than traditional bikes.
The most modern exercise bikes have incorporated the option to allow you to continue working or watching your shows when working out. Some of these machines even have workout programs that are helpful if you are a beginner or if you want to try something new.
Level of Motivation
This point is a drop-down from the one above. Sometimes your level of motivation will require certain things by a bike. If you someone who gets bored quickly, you will need a bike that will consistently challenge and motivate you to keep trying.
Consequently, if you are a self-motivated individual, you could try and challenge yourself by getting a bike with higher intensity.
Workout Room
For a home gym, office gym, and even a commercial gym, the amount of space you have to spare for that extra fitness machine matters to some extent. You do not need to buy a large training bike if you live in a small apartment.
You will need smaller and more portable equipment for such spaces. A little bike that is easy to tow away whenever you are done with your exercise will be an ideal option. The weight of the bike will also be of importance. You will need to move it every time before and after the workout.
However, if space is not an issue for you, then a bigger bike will not be an issue.
Noise Level
Excess noise could destroy you and your roommates. You should get a silent bike if you intend to work out in a shared space. Also, if you want to multi-task on your bike, say exercising while enjoying a TV show, then you need a piece of silent equipment.
Safety Mechanism
As a home user, your safety and that of people around you should be a concern when buying your bike. If you live with children, you should get a bike that has all the mechanical parts enclosed. The chains and the flywheel should be covered.
Conclusion 
Getting the best folding exercise bikes may be challenging, especially when you are unsure of the model and feature you need. You must obtain the specifications right before you pick on a product. The guide above will help you get the correct bike for your needs.