Plantar fasciitis is a common foot ailment resulting in a stabbing pain in the heel. It occurs when the tissue connecting the heel to the toes becomes inflamed. Plantar fasciitis is treatable. It is good to note it can become serious if ignored.
If you develop plantar fasciitis, your workout schedule may be negatively impacted by the pain in your heels. Often, it is worse while exercising or spending long periods of time on your feet. So, the temptation to sit on the couch will likely increase. Fortunately, investing in a pair of the right shoes can help alleviate some of the pain and make working out tolerable.
​Best Workout Shoes for Plantar Fasciitis
When buying shoes specifically if you have plantar fasciitis, definitely look for good heel padding, arch support, and lots of cushioning. These are the three staples of a shoe for plantar fasciitis. Remember, every foot is different. You also need to take into account your specific stride and foot type. Pay attention to the way your feet naturally hit the ground. This is always essential to buying the right shoes for you. But, it is especially important if you are suffering from plantar fasciitis.
That being said, here are some of the best workout shoes for plantar fasciitis:
Brand
Best Overall
Brooks GTS18
Best for Higher Arches
Asics Gel Nimbus 20
Best for Short Runs
Nike Air Max Sequent 3
Product
Best Overall
Product
Best for Higher Arches
Product
Best for Short Runs
Product
1. Asics Gel Nimbus 20
The Nimbus 20 shoes are particularly good for running if you have plantar fasciitis. The gel system provides firm heel support that absorbs the shock your feet would normally feel. These shoes are also good for people with higher arches, because of the way the gel forms to your feet. Unfortunately, they aren't best option for people with flat feet.
These shoes also have a feature called Flytefoam midsole technology. This is the foam in the middle of shoe. It is designed to keep its shape throughout heavy use, so you won't have to worry about wearing out your shoes too quickly.
The gel system provides the ultimate support for your feet, which will help increase your stability. You can't skimp on support when looking for shoes that will help alleviate the pain of plantar fasciitis.
This shoe tends to fit a little snug. But, it is designed this way so your foot is held in place while you run or workout. The only issue is that some people might actually find these particular shoes to be too soft. That is a matter of personal preference.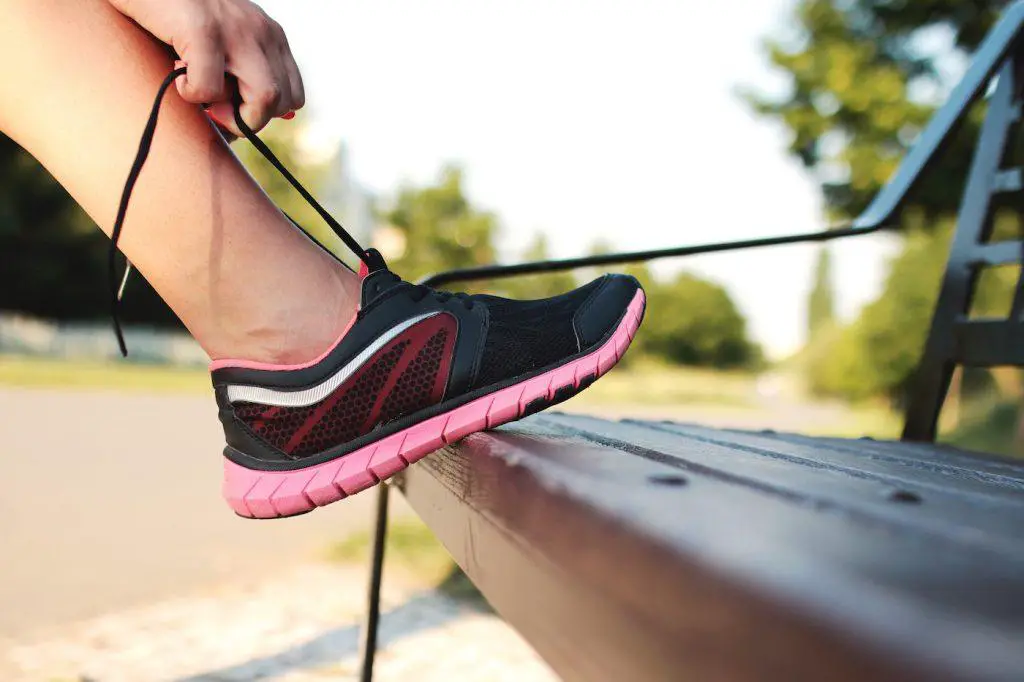 2. Saucony Guide 10
This is another great running shoe for those with plantar fasciitis. Since it also focuses heavily on keeping your foot stable, you will be able to use this for any type of exercise you want.
A big plus for this shoe is that it gives you the plush cushioning your heels need without feeling clunky. These shoes are meant to be streamlined without compromising on padding for the heel. Another positive aspect of these shoes is that they were designed with a new midfoot structure to keep your feet in place. They also have a mesh front, so the front of your feet will have the ability to move in any direction.
Saucony has also developed what they call a tri-flex outsole. This allows more contact with the ground and better flexibility. The Saucony Guide 10 is really the right shoe for the plantar fasciitis sufferers who want that support to keep their foot in place, but aren't willing to compromise on flexibility.
It is low weight but still durable enough to last through about a year of heavy use.
3. Brooks GTS18
The Brooks GTS series has been popular with plantar fasciitis sufferers for years. The newest GTS18 model is just the latest in great workout shoes for people who want to save their aching heels. They are a perfect combination of cushion and support, without sacrificing on a sleek design.
Some shoes with the extra cushion for plantar fasciitis can end up looking bulky or unstylish. The Brooks GTS 18 has been designed with a modern look, so you can be comfortable and fashionable.
The mesh outer layer looks cool while allowing your foot to be flexible and breathe. While a mesh shoe can sometimes allow your feet to move around, the GTS18 maintains the perfect fit.
If you are looking for a shoe that has the smoothest feel while moving, this is it. The cushioning is so soft and the heel to toe transitions are undetectable. You will barely even notice you are moving.
This shoe also promotes good posture and body alignment with a feature called the Progressive Diagonal Rollbar. It is the way the sole of the shoe is angled, so your whole body is supported and not just your feet.
The Brooks GTS 18 is the perfect shoe for plantar fasciitis sufferers who need whole body support, but don't want to compromise on style. These shoes will keep you looking and feeling good throughout your entire workout.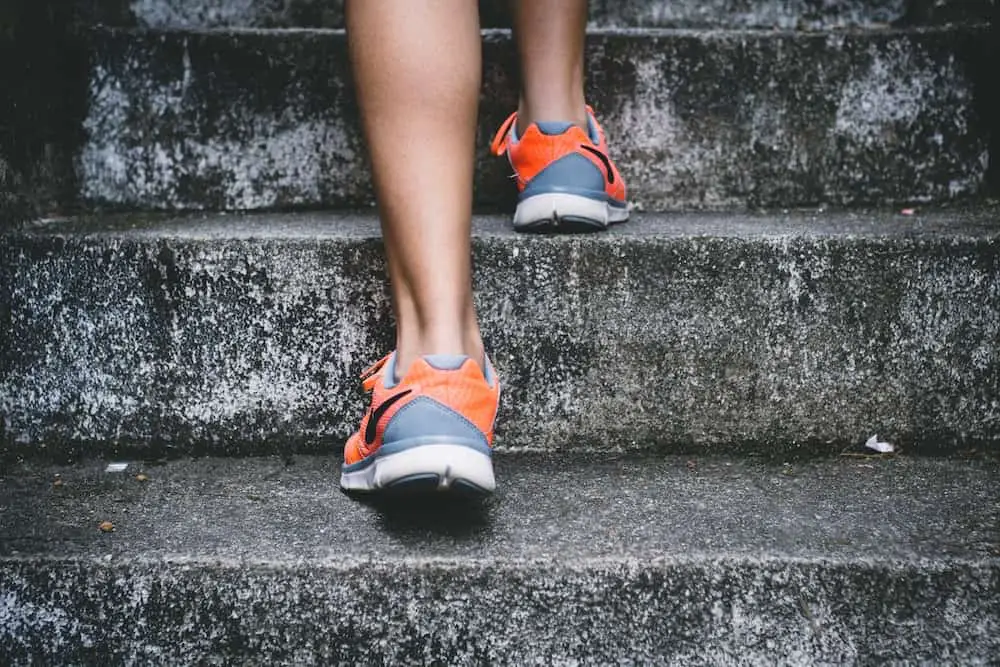 4. Nike Air Max Sequent 3
Nike Air Max is more suited for short runs. But, it is also focused on cushion with the air sole. If you really want a shoe with maximum heel cushioning, this shoe is worth trying. It provides the highest level of heel cushioning. The u-shape of the air heel gives you the most impact protection you can find.
It has a knit upper layer that will move with your foot as you run. But, it may not keep your foot as stable as you need for plantar fasciitis. This shoe is great for someone who wants more flexibility and a lighter shoe. It's not as good for people who want a more solid and sturdy shoe.
However, this shoe will last a while as there are added rubber sections in areas that are prone to wear. The Air Max Sequent 3 is lightweight and flexible, but might not be as supportive as some of the other options.
Conclusion
Your workout routine shouldn't have to suffer because your Plantar Fasciitis is acting up. With the right shoes you can get back to focusing on your health. Every foot is different so there is no shoe that is right for everyone. Always look for cushion and support when picking a shoe to help with your plantar fasciitis.
You can find a shoe that fits your needs whether that is support, durability, or style. Try out a few shoes until you find the one that is right for you. Also take into account the type of activity you are doing.
Long distance running shoes are different than short distance or tennis shoes. There are lots of features to take into consideration. The perfect shoe is out there waiting for you.