If you find you are looking for more energy throughout your workout, you should consider trying a pre-workout supplement. Pre-workout is designed to boost your energy levels and power throughout your workout as well as keep you focused.
Almost every pre-workout is different, but they typically contain a combination of carbs, B vitamins, and antioxidants. You can find a pre-workout for every dietary concern and fitness need.
However, it is important to be careful to pick a reputable pre-workout. Some supplements are not properly tested and can actually have negative side effects.
​The Best Pre Workout Routine
The best pre-workout supplements often contain caffeine and beta-alanine as key ingredients. Caffeine keeps you focused and alert while beta-alanine aids in gaining lean muscles and increasing performance time. Picking a pre-workout with healthy amounts of these two ingredients will help you to find the best supplement to build muscle and keep your energy up throughout your workouts.
Brand
Best All-Natural Pre-Workout
Beet Natural
Best Pre-Workout for Women
FitMiss Ignite
Product
Best Overall
Product
Best All-Natural Pre-Workout
Product
Best Pre-Workout for Women
Product
1. PRE-KAGED
PRE-KAGED is one of the best pre-workout supplements you can find. The company that makes it puts a heavy emphasis on thoroughly researching their products, so you know you are getting the best stuff in your drink.
You mix one scoop of the powder with 20oz of water and drink it 45 minutes before your workout. You can maintain maximum intensity levels in your exercise. Be sure to follow these instructions or it could leave you feeling bloated and uncomfortable during your workout.
You get to see exactly what is in this supplement as they list everything clearly on the label. It contains caffeine and mostly plant-based ingredients to help you get the maximum effectiveness out of your gym time. Both men and women should start to feel more focused and have less muscle fatigue when they take this pre-workout.
It comes in a fruit punch or apple flavor. Plus, it mixes flawlessly into your water, so you don't have to worry about having to swallow any unmixed powder.
Unlike some supplements that make you feel jittery, PRE-KAGED will make you feel pumped up and ready to go. The only thing you have to be careful about is your sensitivity to caffeine. PRE-KAGED contains about as much caffeine as two and a half cups of coffee.
This is a good thing for your workout. But, if you have a caffeine sensitivity then you could experience some sleeplessness or irritability.
You should also know that it tends to be more expensive. But, it is worth paying a little extra for all the research and high quality ingredients that go into this supplement.
Pre Workout Powder; KAGED MUSCLE Preworkout for...
Triggers bigger, longer-lasting pumps*: every serving of Pre-Kaged pre-workout for men and women...
Award-winning pre-workout formulated to increase , strength & performance*: Pre-Kaged is an...
The industry largest, most fully dosed scoop: With max dose ingredients, and a massive 32g per...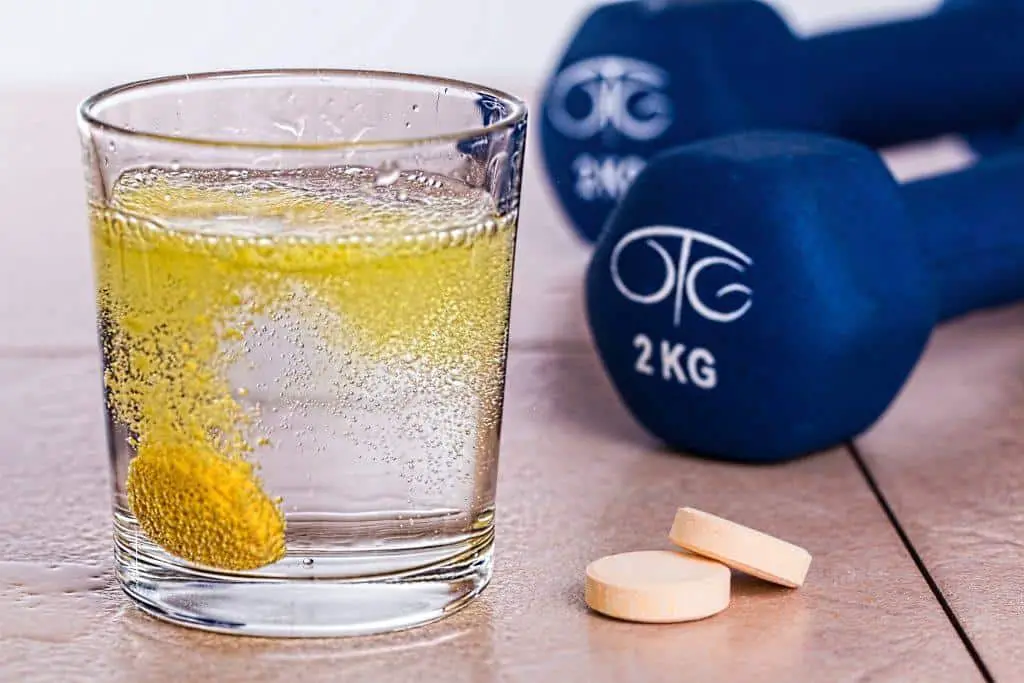 2. Beet Natural
If you are looking for an all-natural pre-workout, then Beet Natural is the way to go. As the name suggests, it is made from beets which are a great source of antioxidants and nitrates. It also contains yerba mate for a caffeine boost, as well as beta-alanine, and Vitamin-C. Beet Natural contains no artificial sweeteners and no artificial ingredients.
It is the best natural pre-workout you can get. It will give you an extra pick me up before going to the gym. However, because it is all natural, the effects won't be as intense as some other supplements. Make no mistake, you will still feel more energized, build lean muscle, and increase your athletic performance. You might not feel an extreme energy jump like you would with some pre-workouts.
It has a passion fruit flavor, but you will likely still taste the beets when you drink it. As with most natural products it tends to run a little more expensive than some products with artificial ingredients. You can rest assured you are doing the best for your body when you take it.
Nutrology Beet Natural O2 - All Natural...
All-Natural Pre-Workout - delicious additive to your water or sports drink, each serving of Beet...
Beetroot Power – Beet Root, proven for centuries to have great health benefits, is one of the...
Clean Energy from Yerba Mate – Each serving of Beet Natural O2contains approximately 250mg of...
3. Perform Kinetics
One of the absolute best pre-workouts for muscle gain is Perform Kinetics by ATP Nutrition. This supplement promises energy, focus, endurance, and blood flow. It delivers on these promises and gives you an immediate boost in your workout, so you can see results quickly.
What is really different about this pre-workout is the high dose of theacrine. The purpose of theacrine is to keep the effects of the pre-workout lasting longer so you can have unparalleled levels of endurance.
However, what you will notice right away is how focused and alert you feel after you take this supplement. It will get you in the zone almost immediately, so you can keep your head in your workout and not get distracted between sets.
But, the reason it is the best for muscle gain is the boost in performance it gives you. Because it keeps you going, you won't feel tired, even after supersets. You can use heavier weights and workout longer before you reach exhaustion.
The biggest drawback of this pre-workout is the taste. The V2 comes only in sour black cherry. Most users agree the flavor leaves something to be desired. However, overall it is a highly effective pre-workout, even if it doesn't taste great.
4. Transparent Labs PreSeries LEAN
When taking a pre-workout for weight loss you need a mix of stimulant and non-stimulant ingredients. Often, pre-workouts designed for weight loss are made of exclusively stimulants which end up leaving you feeling drained and wiped out. You need a pre-workout supplement that will help to speed up your metabolism, so you can burn more fat in the long run without burning yourself out.
The best pre-workout for weight loss is the PreSeries LEAN by Transparent Labs. It is designed to promote fat burning and support your thyroid without any fillers, artificial sweeteners, or harmful ingredients. It promotes fat burning for both men and women and gives you long lasting energy.
PreSeries Lean contains 14 grams of active ingredients. That is pretty incredible considering the average in a pre-workout supplement is 5 grams. It is the prefect supplement for giving you an energy boost to help you maintain muscle and burn fat, without stressing your body.
This pre-workout isn't meant for quick results that can't be maintained. It is designed for reliable and steady progress.
5. Vintage Blast by Old School Labs
Vintage Blast is the best pre-workout for men, although it can be taken by both men and women. It is particularly great for men because it promotes bulking up and is recommended by many body builders.
It is unique because it has a two-stage delivery system. This means it will steadily deliver energy throughout your workout. It also helps combat any kind of dependency.
It is designed so you will continue to feel the effects, instead of building up a tolerance. If you're looking for consistent strength and energy throughout your workout, you should try Vintage Blast.
This pre-workout helps to prevent lactic acid buildup, so you can expect a speedy recovery and less soreness. It will also help you to stay hydrated throughout your workout. Another plus is that it is vegetarian friendly. But, the focus of this supplement is endurance and energy boosts throughout the entirety of your workout.
Vintage Blast contains no carbs and no sugars. It will provide you with a clean energy feeling, not like you're jittery or about to explode. It may not necessarily pump you up to go to the gym, but it will provide you with the stamina to make your workout the best it can be.
6. FitMiss Ignite
While there are some myths floating around that a pre-workout isn't good for women, or that it will make you too big, women can benefit from pre-workout just as much as men can. Pre- workouts will elevate the quality and intensity of a workout for women just as much as it will for men.
FitMiss Ignite is the best pre-workout for women because it focuses more on fat burning than on bulking up. It will help give you that extra motivation to get to the gym and really pump out your workout. Plus, it tastes great, so you will actually look forward to drinking it.
FitMiss Ignite will help you build the lean physique you are looking for, without making you too hyper. Of course, it does contain caffeine so keep that in mind if you are sensitive.
The other potential downside is in some people this product can give an itchy sensation due to beta-alanine. However, this side effect can be reduced if you reduce the portion of the supplement.
Sheer Strength Labs Pre Workout for Women with L...
Custom-formulated pre workout just for women: Most mainstream preworkouts are made for men by men...
Love the way you feel or your money back – Sheer Strength Labs guarantees that you love your...
Purity & potency – Your tub of Sheer Pre Workout for Women is guaranteed to be free of the GMOs,...
Conclusion
Pre- workouts can be great for giving you that extra boost you need to get through your workout. A good pre-workout supplement should help you to see an increase in your focus at the gym as well as your energy levels.
However, when choosing the right pre-workout for you, you should also keep your fitness goals in mind. Some supplements are better suited for weight loss and some are better for building muscle. Choosing the right one can help you meet your goals faster.
You can find whatever you are looking for in your workout supplement. There are plenty that have no calories or carbs.
There are some without caffeine or with all natural ingredients. You can even find some that are completely vegan. But make sure to check the ingredients before you buy and avoid any supplements with unspecified ingredients.
There are some bad pre-workout supplements. But, finding a safe one that fits your goals will help take your workout routine to the next level.