As I contemplate my own goals for athletic achievement, it is difficult for me to imagine what it must be like to pursue an Olympic dream. Olympic athletes make enormous sacrifices (physical, financial, social, and emotional) all with the hope of representing their country and competing against talent that has taken a similar path.
Brianna Glenn has been competing and winning at an elite level in track and field for over a decade. With personal bests of 11.10 seconds in the 100m, 22.21 seconds in the 200m, and a 6.87 meter (22 feet 6.5 inches) long jump, Brianna is hoping to add one more achievement to her incredible career:  2012 Olympic medalist. Injuries in 2008 prevented her from realizing her dream at the Beijing Olympics; however if sheer determination is any predictor of success, Brianna will certainly find a spot competing in the long jump for the United States next year in London.
Brianna has graciously agreed to answer a few of our questions:
Q: Can you share the details of what your training looks like during a typical week?  The reason I ask is that it appears some people may not realize or appreciate how hard track and field athletes work based on the following comment on your blog:  "A meet for you consists of running about 30 yards, 5 times, and jumping into some sand.  You then walk leisurely back to a bench where you sip on water, waiting your turn to jump again.  What is so physically draining or demanding about that?"
A: Training for me is pretty much a full time job and takes up the majority of my day. I have the privilege of training at the Olympic Training Center, which allows me to have access to everything I need and have it conveniently located all in one place. I start the day off on the track.  I'm usually out there 5 days a week and sometimes 6 earlier in the fall. That session is usually around 2 to 3 hours, depending on what I have for the day. I try to be on the runway doing long jump specific stuff two days a week, and the other days I'm doing speed work, speed endurance (which I hate), and tempo runs. 
After the running and jumping are done, I end my session with some type of combination of plyos, core work, and general strength circuits. I head straight to lunch after that, which is conveniently located on site and has pretty much anything you'd want available. Then I head to the weight room for my lifting which is 3 days a week and usually takes me about 2 hours. 
The other days I usually schedule my massage and chiropractor appointments.  I usually try to eat a small meal again and then head to sports medicine to do any rehab if I have an injury or just general upkeep.  I also see my sports psychologist once a week and set aside time to review film of my competitions and technical practices with my coach.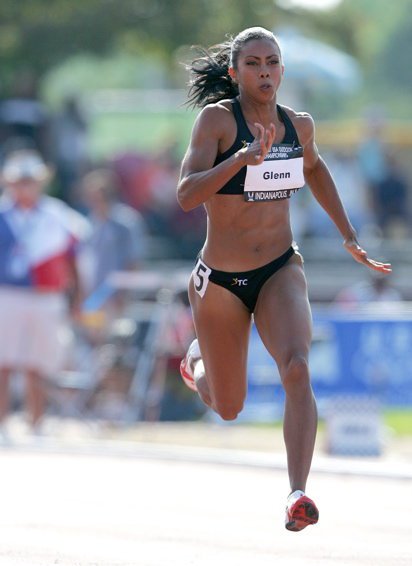 Q: At elite levels of athletic competition it appears that the differences between taking a medal and being part of the pack are extremely small.  Can you give some insight into how you break down your sport and look for areas to make incremental improvements?
A: The majority of the time, medalists are not "more talented," they are just usually better prepared and mentally ready to get the job done. At this level, everyone has an extreme amount of talent and is capable of winning medals. What I try to do is look for ways to be consistent with my jumping, because knowing that you always have the ability to consistently jump good gives you the confidence you need to unleash the big jump. That's why you have to be really dialed in with your technique and also how you approach competitions, so you know that you can expect the best from yourself and not worry about it.  
Q: What other people are essential components of your "team?" 
A: Like I mentioned earlier, training at the Olympic Training Center gives me access to a host of great people that make up my team. I have a coach, a strength coach, a sports psychologist, a nutritionist, medical staff, and a bio mechanist all available to me. I also have an agent that takes care of getting me into competitions and setting up my travel, etc. As an athlete, the more you can rely on good people around you, the better. It allows you to give more of your attention and focus to your craft.
Q: How important is proper mental preparation in achieving your goals (attitude, visualization, confidence, etc.)?
A: It is by far the most important tool to success. 
I believe in the following sentiment– "success is 99% physical and 1% mental. But it is the 1% mental that determines the 99% physical."  I am certain I already possess the tools physically to be as good as I want to be. 
What I need to work on the most is mentally allowing myself to be great when it matters. Sometimes it's harder than you think because confidence can be slippery and you lose it sometimes or deal with injuries and setbacks that you have to come back from. It is something I work on constantly and know is the biggest tool to achieving what I hope to achieve.
You can follow Brianna Glenn at her blog, My So-Called Fabulous Life, or on Twitter.